Posted by Winston
Monday, 22 October 2012 06:13
It's looking interesting ... a 10" Jelly Bean Tablet with 2560x1600 resolution. WoW! I wonder how much battery it'll consume ... not to menstion the cost! Still, it's good to see someone taking on Apple's Retina display, which I think is well over-rated.
"Google is looking to one-up that iPad's Retina display. Apple may be looking to crush the competition's hopes of taking over the 7" tablet market with its upcoming iPad Mini, but Google is looking to grab a few headlines of its own on Monday, October 29.
According to The Next Web, Google will officially unveil a 32GB version of its popular Nexus 7 tablet. The device has already turned up in stores across the U.S. and some lucky people have even been able to purchase the device, which is priced at $249 (the same price as the previous 16GB model). In addition, there will also be another 32GB Nexus 7 that will feature 3G connectivity. This device will most likely be aimed right at Amazon's 8.9" Kindle Fire HD LTE 4G (say that three times fast)."
Source: Dailytech
Posted by Winston
Wednesday, 17 October 2012 17:41



Samsung Galaxy Note II (Android 4.1)

GALAXY Note II's 5.5" HD Super AMOLED screen offers better clarity and a 16:9 screen ratio – perfecting all viewing experiences. The innovative design of the GALAXY Note II includes a bigger screen while maintaining a slim body to fit just right in your hand.

1.6 GHz quad-core processor
Android 4.1 (Jelly Bean)
16/32Gb Internal Storage (2Gb ram)
microSD slot (up to 64GB)

4.8 inch Super AMOLED high-definition display; true and perfect color with ultrafast response time. It waits till you're asleep: the screen maintains a bright display as long as you're looking at it.

1.4 GHz quad-core processor
Android 4.1 (Jelly Bean)
16/32/64Gb Internal Storage (2Gb ram)
microSD slot (up to 64GB)

Prices start from USD $99.00




Sony Xperia Tablet (Android 4.0)

All the great things you know from Sony®, now in a tablet. With a comfortable design that fits easily in your hand, and a vibrant TruBlack™ display, the Sony Tablet S allows you to enjoy a truly optimized tablet that's responsive and intuitive. With the Sony Tablet S you can access PlayStation® games, Reader™ eBooks, music and new release movies from Music Unlimited and Video Unlimited.

Processor Type : NVIDIA® Tegra® 3 Mobile
Internal Memory (RAM) : 1 GB
Display Technology : TFT Color LCD
Screen Size : 9.4" (1280 x 800)

Prices start from USD $449.00

Microsoft Surface Tablet (Windows RT)

Surface with Windows RT comes pre-installed with Office Home and Student 2013 RT Preview1. Stay productive with touch-enhanced versions of Microsoft Word, Excel, PowerPoint, and OneNote.

Quad-core NVIDIA Tegra 3
2GB RAM
10.6" ClearType HD Display
1366x768 pixels 16:9 (widescreen)
5-point multi-touch

Prices start from USD $499.00
=================================================================================
Sponsored by:
Posted by Will Smith
Tuesday, 16 October 2012 19:34
I guess the needs of the many are just too much for Apple to ignore. See, Apple ... it's NOT Apple who dictate what the users wants/needs ...it's the users themselves. Yes, People Power!
"Apple has sent out invites for what is widely speculated to be the launch of the iPad mini - a smaller version of its bestselling tablet computer. The digital cards' text reads: "We've got a little more to show you."
Rumours suggest the new model will feature a display that is 7-8 inches (18-20cm) in size. Amazon's Kindle Fire and Asus's Google-branded Nexus 7 have already proved popular with users who want a tablet they can hold with one hand.
But Apple continues to dominate sales, according to research by iHS iSuppli. A study it published in August suggested that Apple shipped 17 million tablets over the April-to-June quarter capturing close to 70% of the market.
The event will take place at California Theatre in San Jose, California. Too small? Apple's former boss, the late Steve Jobs, had previously attacked the idea of releasing a smaller iPad."
Source: BBC
Posted by Will Smith
Tuesday, 16 October 2012 19:28
They're targetting iPad pricing ... let me tell you, it does certainly does look good :)
"Microsoft has gone official with pricing on its Surface RT tablets. Most people have been hoping the Microsoft Surface RT tablets would come in at less than Apple's hugely popular iPad. However, Microsoft's pricing puts Surface in close competition with comparable third generation iPads and higher than the iPad 2.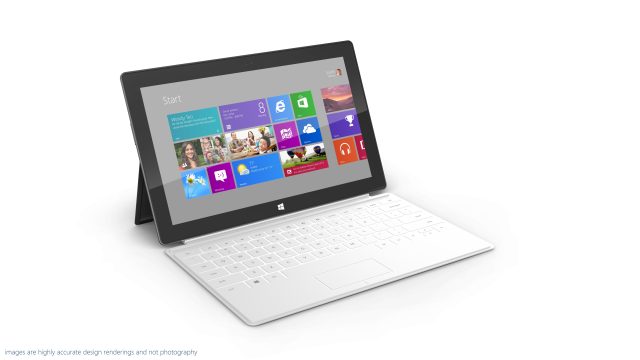 The 32GB Windows Surface RT tablet without the Black Touch cover, which also doubles as a keyboard, is $499. That makes it $100 more expensive than the entry-level Apple iPad 2 at $399. The $499 entry price for the Surface RT tablet puts it on par with pricing for the 16GB "New iPad".
If you want the Touch Cover with its integrated keyboard, that option is $100 when you order, or $119.99 as an add-on later. You can pre-order the 32GB version with the cover for $599."
Source: Dailytech
Posted by Will Smith
Monday, 08 October 2012 17:08
It's coming and it's gonna be BIG ... or should I say "Mini" haha! Some people said it was pointless ... a bigger version of an iPod. But I think it'll be perfect for me!
"This shows that Apple has plenty of confidence in its new addition to the iPad family despite the fact that the market is already flooded with 7-inch tablets. The iPad Mini hasn't even been announced yet, but Apple is already planning to make over 10 million of them in the fourth quarter of this year.
Ten million iPad Minis is almost double the number of Amazon Kindle Fires that were made during Q4 2011 -- and the Fire was the hottest holiday item last year. This shows that Apple has plenty of confidence in its new addition to the iPad family despite the fact that the market is already flooded with 7-inch tablets."
Source: Dailytech
Posted by Will Smith
Sunday, 07 October 2012 06:14
It's not as "waterproof" as described, but it is "splashproof" ... whatever that means.
"Sony has halted sales of Xperia, its new tablet computer, after discovering that the device may not be water resistant as advertised.
The Xperia tablet was unveiled in August 2012 in Berlin and has been marketed as a "splash-proof" tablet.It has been on sale for just under a month and about 100,000 have been shipped, Sony said.
The company says it will repair any damaged devices and a spokesperson said a manufacturing flaw was to blame. There is no date at the moment for sales to recommence, Sony spokeswoman Noriko Shoji told Reuters news agency."
Source: BBC
Posted by Winston
Friday, 05 October 2012 03:00
As I told everyone already ... Facebook LIKES are totally fake and useless. If you want people to like your page or comments, get real friends to like the!
"Facebook "likes" are being added to webpages even if a user has not clicked a like button, or even visited the page in question, the company has admitted.
A US security researcher found that simply sending a web address to a friend using Facebook's private messaging function would add two likes to that page. Leaving a comment on a story within Facebook also adds to the tally. The site told the BBC that no private information had been exposed.
The revelations coincided with the news that the network has surpassed one billion monthly active monthly users. "Many websites that use Facebook's 'like' or 'recommend' buttons also carry a counter next to them," the site explained.
"This counter reflects the number of times people have clicked those buttons and also the number of times people have shared that page's link on Facebook."
Source: BBC
Posted by Will Smith
Thursday, 04 October 2012 03:20
3D printers ... could this be the answer to everyone's IT needs? or not? I can imagine users printing all sorts of useless stuff LOL!
"Disney is exploring the use of 3D printers to build new kinds of light features into objects. The firm's researchers are working on a range of techniques including "light pipes" and tubes of enclosed air that can be made to glow in controlled ways.
They say that 3D printers can create objects with "micron accuracy" that would otherwise be more complicated and costly to build.
It paves the way for the firm to create new kinds of toys. However, one expert suggested it might be some time before the innovation became cheap enough to use to create mass produced items."
Source: BBC
Posted by Will Smith
Thursday, 04 October 2012 03:14
Mini iPad ... could this be the "killer" gadget? I do like the idea of a smaller 7.85 inches iPad mini.
"Apple is expected to announce the iPad Mini sometime in October. The iPad's "mini me" has started production as Apple attempts to ward off competition with a smaller, cheaper tablet.
Apple's Asian component suppliers have kick-started mass production of the new iPad, nicknamed iPad Mini. The new tablet will measure 7.85 inches diagonally, putting it more in line with the other 7-inch tablets crowding the market.
Apple's iPad is the king of tablets and eats up a majority of the tablet market share. However, the 9.7-inch display and a load of features like 4G LTE connectivity and a Retina display with 2048x1536 resolution makes the iPad a tad expensive. In fact, the new iPad starts at $499."
Source: Dailytech
<< Start < Prev 1 2 3 4 5 6 7 8 9

10

Next > End >>


Page 10 of 126