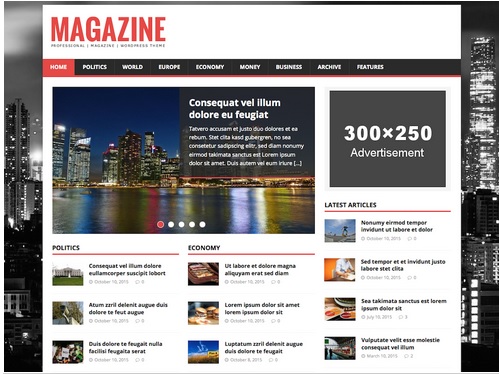 Here's a quick guide on how to post articles, reviews and blogs as well as inserting photos and photo galleries.
Step 1 – Posting articles, reviews and blogs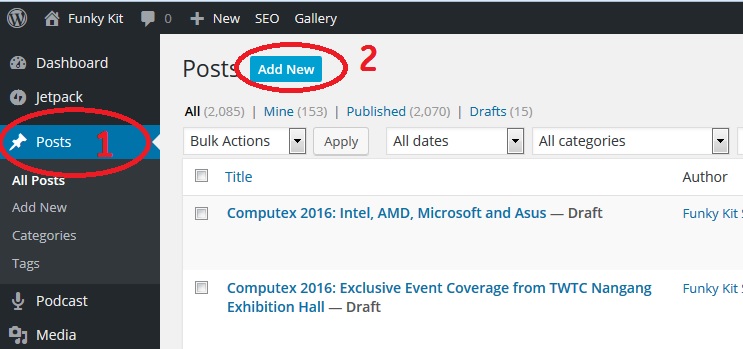 Click on Posts
Click on Add New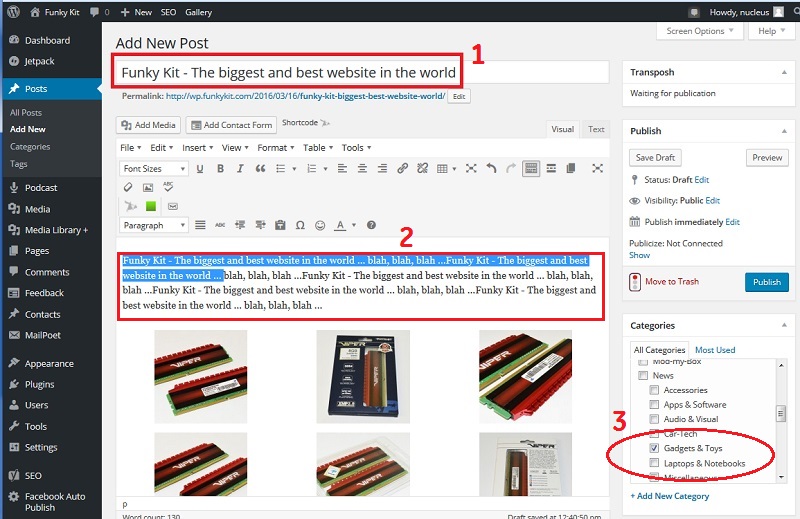 Enter the Title of the article, post or review
Enter the text and contents
Select the correct Category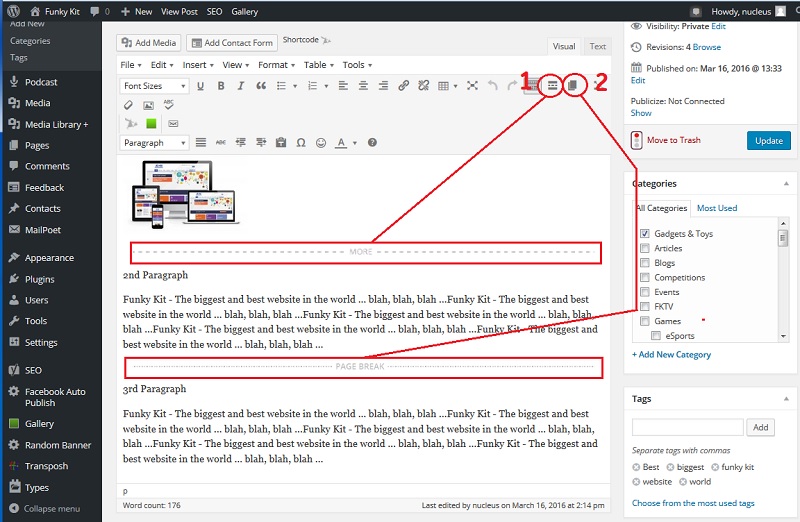 Click on Insert Read More icon to separate the intro text
If your article has more pages … then use the Page break icon
Step 2 – Mandatory: Now we do some SEO …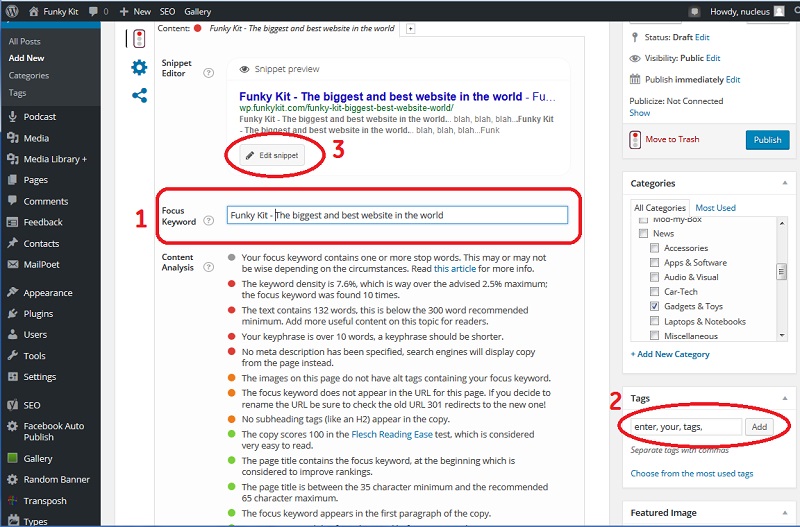 Copy Focus key words from the title of your article. Example above: "biggest and best"
Enter the correct Tags
Click Edit Snippet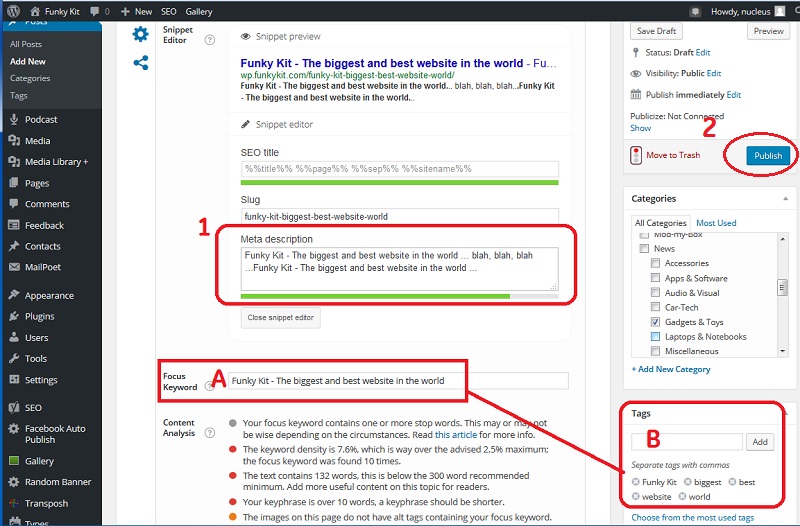 Copy the first paragraph of your article/post into the Meta Description
Check that both boxes A and B has the keywords as in the

Focus Keyword

and

Tags

When you're ready you can click Publish 🙂
Step 3 – Mandatory: Inserting SINGLE Photos in your articles
You can insert single images/photos using WordPress's own media tool. This would be good for news posts or article posts.
If you already have a photo gallery of a review product, and would like to select one of the photos from the gallery to insert as a single photo, please see Step 5 and Step 6.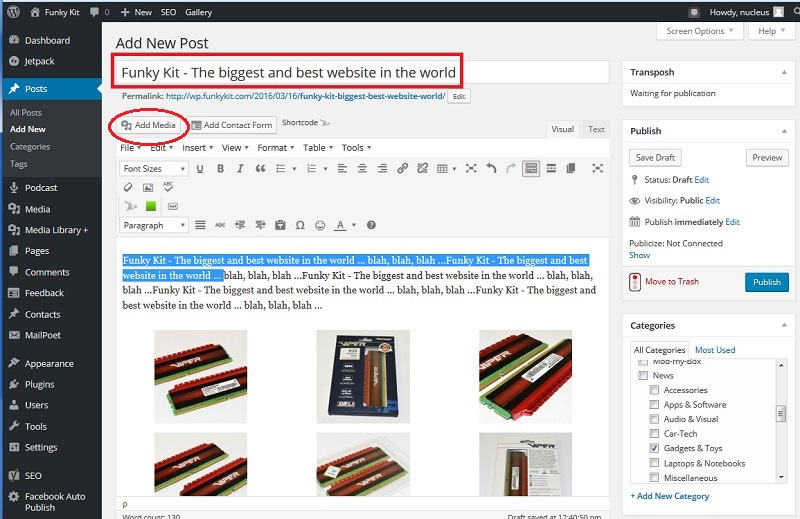 To insert a single photo in your article, click on Add Media icon (circled in RED).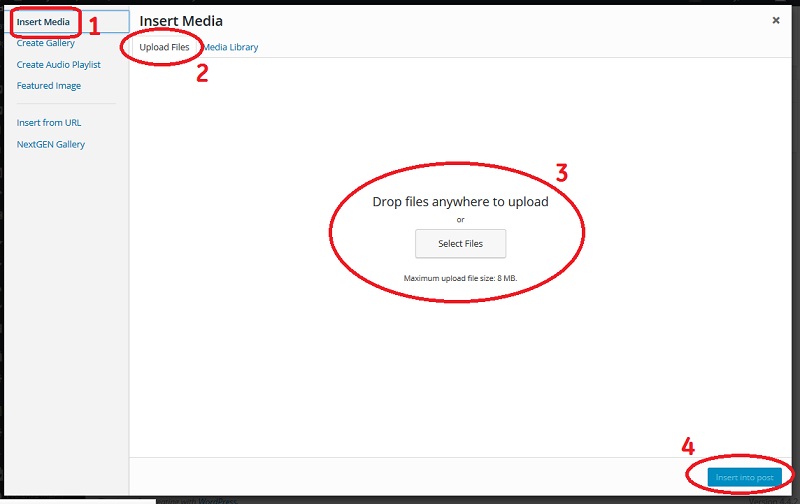 Click Insert Media
Upload Files
Drag and Drop your photos or upload via browser
Insert photos once photos have been uploaded … SEE BELOW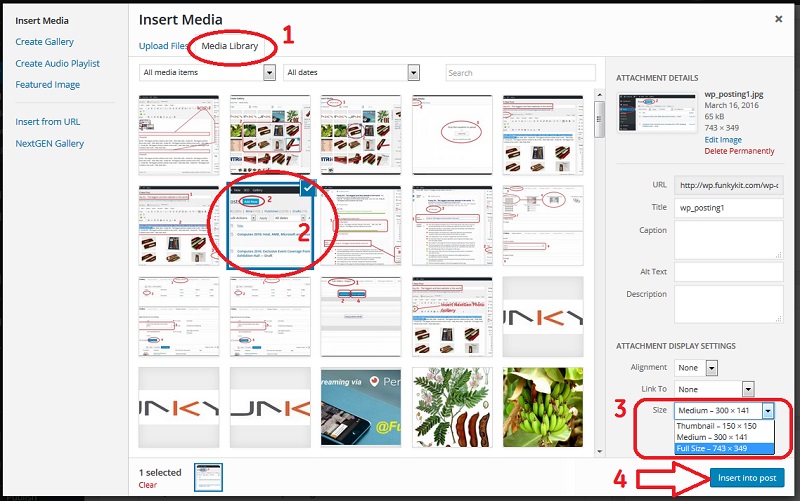 Select Media Library
Click on the single photo you want to insert
Select the size of the photo … I usually select Full Size (so remember to resize your photos to 640×480 – to save bandwidth 😉
Now you can Insert into post
Step 4 – Mandatory: Insert a Featured Image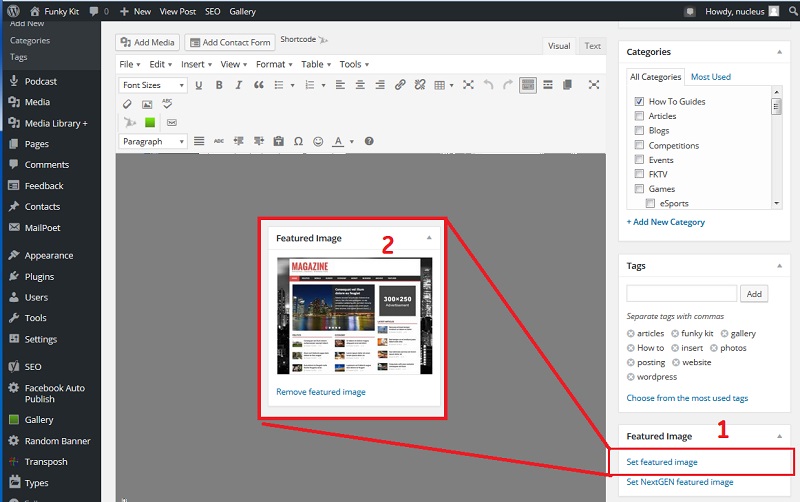 On the bottom right of the editor, you'll see Set Featured Image. Select it.
A new Insert Media window will open (like step 3). Select the photo you want to use as the featured image.
Step 5 – Optional: Inserting Photo Gallery into your articles
If you have a photo gallery of a review product already, and would like to select one of the photos from the gallery to insert as a single photo … First, you need to create your gallery, see below.
We use NextGen Photo Gallery as shown by the green icon (circled above).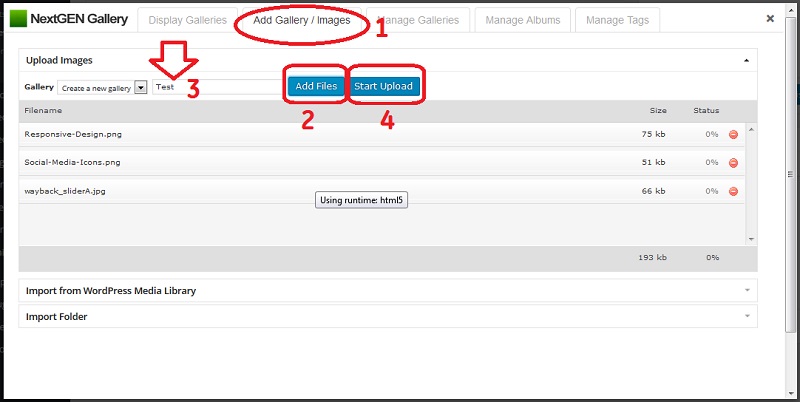 Click on Add Gallery/Images
Click Add Files
Enter a name for your photo gallery. Basically, they are folders. I recommend you use this format …

yourname_productname_gallerynumber

, for example:

nucleus_gigabyte_z170motherboard_gallery1
nucleus_gigabyte_z170motherboard_gallery2
etc …
nucleus_article-name_gallery1

Click Start Upload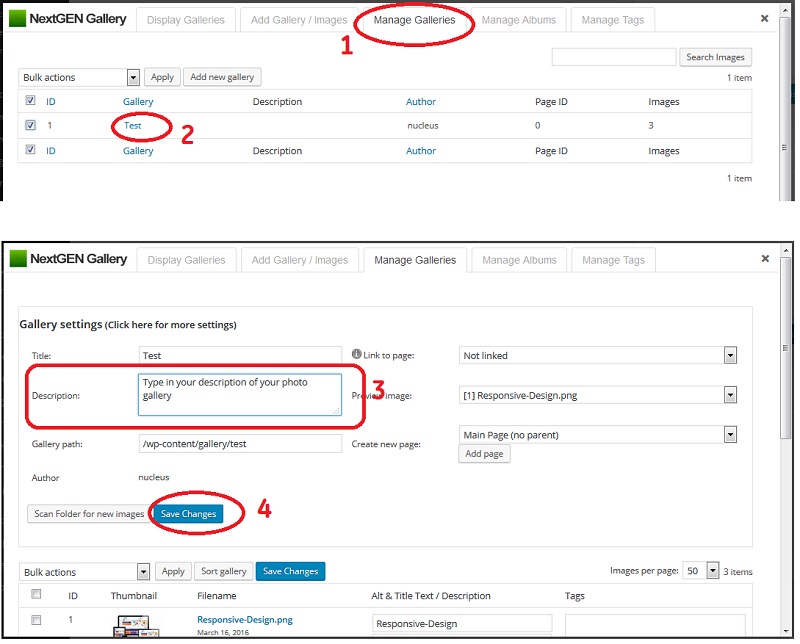 Click Manage Galleries
Click on the gallery name you just created
Enter a short description for your gallery
Click Save Changes

Click Display Galleries
Select the Display Type (type of gallery you want to display)
Click What would you like to display?
Select Sources: Gallery
Select Galleries: The gallery you just named and uploaded
Click Save.
Step 6 – Optional: Inserting a SINGLE photo from your gallery into your articles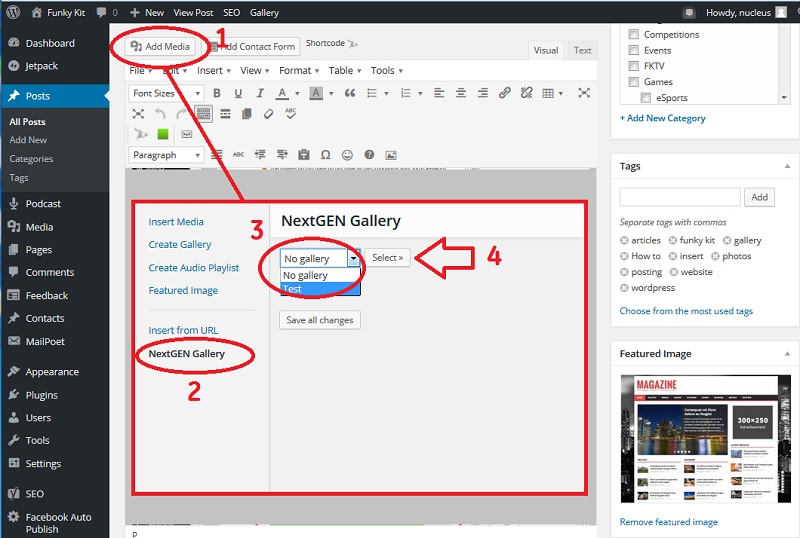 Click Add Media
Click NextGen Gallery
Select the Photo Gallery name (where the photo is located)
Click Select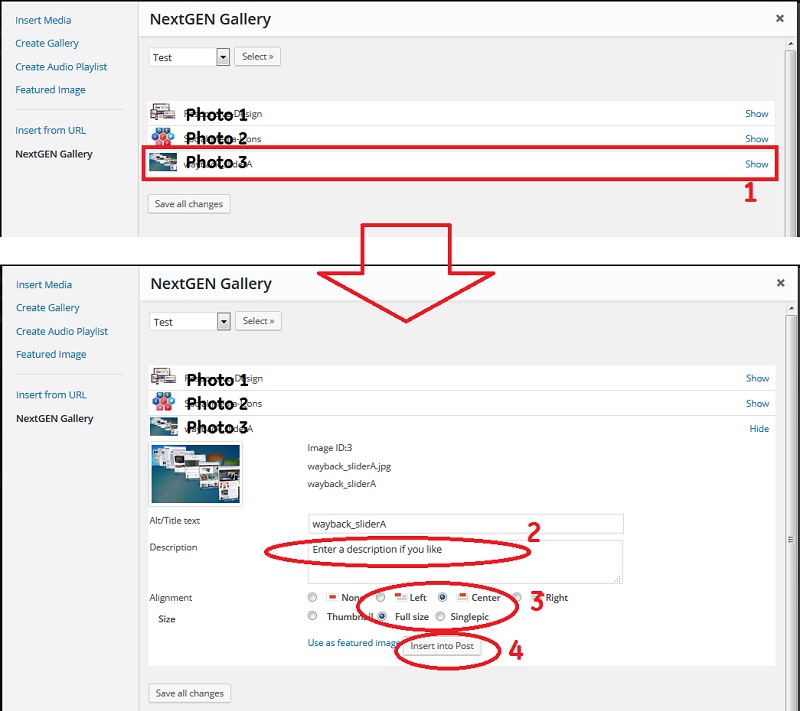 Click Show to select the single photo
Optional: Enter the description if you haven't already
Center your photo
Select Full Size
Click Insert into Post when done
Wow … that was quite long! But I hope this guide will help you post articles, reviews and blogs, as well as inserting photos and photo galleries with ease.