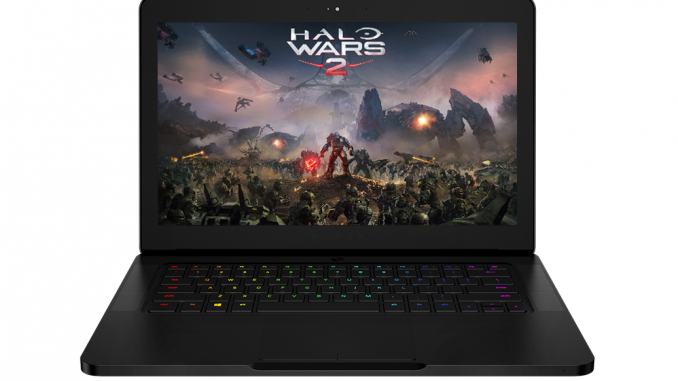 The latest version of Razer's award-winning laptop, the Razer Blade is now available in Hong Kong. Orders can now be placed at www.razerstore.com for the new Razer Blade, which houses the latest 7th Gen Intel® Core™ i7 quad-core processor. The new Razer Blade starts from HK$15,499.
For more information on the new Razer Blade, please visithttps://www.razerzone.com/hk-en/gaming-systems/razer-blade
WHO:

Razer fans in Hong Kong can now get their hands on the latest version of the world's thinnest gaming laptop. Dubbed the "Best Portable Gaming Laptop" on the market by Digital Trends (November 2016), the powerful CPU of the new Razer Blade achieves double-digit increases in productivity benchmarks and is paired with NVIDIA® GeForce® GTX 1060 graphics to deliver the best frame rates available in an ultra-thin laptop.
WHY:

Razer wants to provide gamers with the best possible gaming experience they can have, whether it's at home or on the go. The new Blade is the ultimate machine for high-performance gaming on-the-go and every detail has been considered to maximise portability and performance, making it easy to game anytime, anywhere.
MORE POWERFUL. INSANELY THIN.
The new 14" Razer Blade strikes the perfect balance between power and portability. Experience streamlined performance with the latest 7th Gen Intel® Core™ i7 Quad Core processor. Get faster, smoother and more detailed gameplay with the powerful performance of the NVIDIA® GeForce® GTX 1060 graphics. Choose from two great display options, Full HD or 4K UHD, or connect a VR headset for an even more immersive gaming experience. Get the best-in-class performance with 16GB of DDR4 dual-channel memory, PCIe-based SSD storage up to 1TB, and Killer Networking technology. All this power packed into a thin and light 0.70" unibody aluminum chassis is what makes the Razer Blade the best in its class.
Latest 7th Gen Intel Core i7 Processor
The new 7th Gen Intel Core i7-7700HQ processor gives the 14-inch Razer Blade 2.8GHz of quad-core processing power and Turbo Boost speeds, which automatically increases the speed of active cores – up to 3.8GHz. Work, play and create with ease and enjoy smooth, high definition 4K content like never before. With the Razer Blade's thin and light design, you'd never guess it holds all that power. Only with Intel Inside®.
Gaming Perfected
The New Razer Blade is armed with the latest NVIDIA GeForce GTX 1060 GPU, powered by the ultra-fast, power-efficient NVIDIA Pascal™ GPU architecture. The advanced GeForce GTX 1060 GPU is created with high-speed FinFET technology and supports DirectX 12 features. This means you can count on an amazing experience in every application—including performance in high-definition and immersive VR Ready games that's up to 3X faster than with previous-generation GPUs.
VR Ready
Discover next-generation VR performance, the lowest latency, and plug-and-play compatibility with leading headsets—driven by NVIDIA VRWorks™ technologies. VR audio, physics, and haptics let you hear and feel every moment.
1920 x 1080 Full HD IPS – Matte Display
Go full throttle with insane frame rates at the max graphics settings in Full HD, featuring wide viewing angles with fast response times for smooth video and blur-free gaming. It delivers consistent, accurate colors from a variety of vantage points and with amazing 350-nit high brightness from the LED backlight, the display is optimized for gaming wherever you go.
3840 x 2160 4K UHD – Touch Display
The spectacular 14" 4K UHD display pumps out 8.29 million pixels at 314 pixels per inch, so you get breathtaking clarity, hyper-realistic sharpness, and jaw-dropping color intensity. The high concentration of pixels eliminates the screen-door effect, so you enjoy the most stunning visuals when you're playing the latest games or editing photo and video content.
Razer Chroma Lighting With 16.8 Million Color Options
Powered by Razer Chroma, the anti-ghosting keyboard of the new Razer Blade features the world's first individually backlit keys, giving you a comfortable gaming experience and limitless customizable options. Just like the Razer BlackWidow, you can use Razer Synapse to easily remap your keys, create macros, personalize your own lighting effects, and even sync up with other Razer Chroma-enabled peripherals to watch your setup come to life as one.
Thunderbolt™ 3
The Thunderbolt™ 3 technology in the new Razer Blade brings Thunderbolt to USB-C at speeds up to 40 Gbps, creating one compact port that does it all. With the ability to connect to USB, Display Port, PCI Express, and Thunderbolt devices it is the most versatile connection available. A single cable now provides four times the data and twice the video bandwidth of any other cable. Whether you're gaming or editing 4K video with plug and play external desktop graphics, you can now transform the Blade into a true desktop experience.
For more information please visit Razer's website … here.