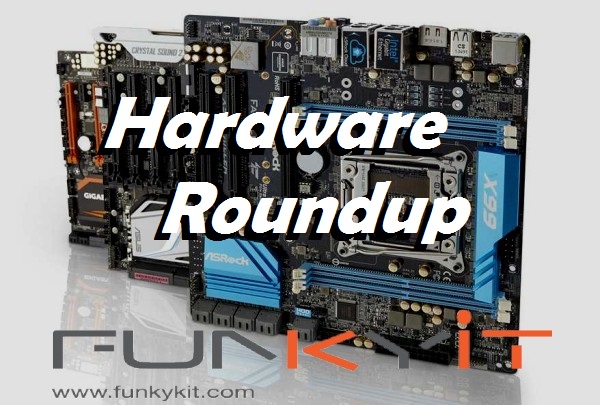 Week #41 2013. Here's this weekend's hardware roundup #41 … with reviews from around the net. Enjoy!
Peripherals & Accessories:
SteelSeries APEX [RAW] Gaming Keyboard on NikKTech.
Razer Tartarus Membrane Gaming Keypad on BenchmarkReviews.
Tt eSPORTS VOLOS Gaming Mouse on ThinkComputers.
Logitech TK820 Wireless All-in-One Keyboard on HotHardware.
Cooler Master CM Storm Mech Aluminum Keyboard on eTeknix.
Razer Ouroboros Wireless Gaming Mouse on CustomPCReview.
Tt eSPORTS VOLOS Gaming Mouse on NeoSeeker.
Thermaltake MEKA G-Unit Illuminated Mechanical Keyboard on BenchmarkReviews.
Mionix Avior 8200 Gaming Mouse on RBMods.
Prebuilt & Portable:
Asus M51AC-US015S desktop on TechReviewSource.
ASUS G750JX-DB71 Gaming Notebook on PCPerspective.
Motorola Droid MAXX smartphone on LanOC.
Motorola Moto X smartphone on TechReviewSource.
Storage:
SSD Charts: 64 SSDs – Samsung 840 Evo 120 Gigabyte on OCaholic.
Seagate NAS 4TB HDD Enterprise on Tweaktown.
Kingston 16GB UHS-I Ultimate SDHC/SDXC Card on FunkyKit.
Seagate's NAS HDD 4TB on TechReport.
HGST Ultrastar 7K4000 3.5-inch 4TB 7200 RPM HDD on MadShrimps.
OCZ Vertex 450 128GB Solid State Drive RAID on ThinkComputers.