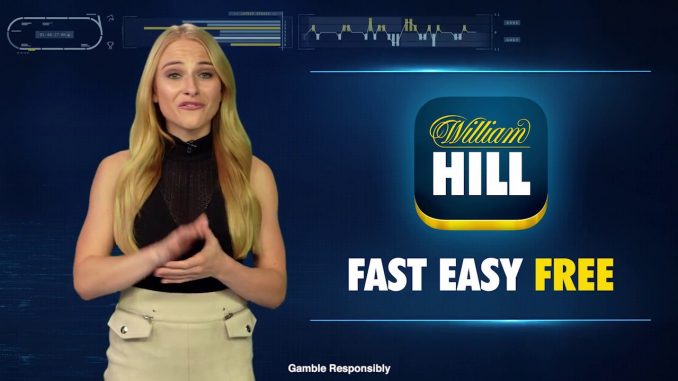 Despite the fact that sports betting has been growing at a fast pace on mobile, with 50% of the entire market now using their Smart phones as the preferred platform, there is a huge lack of apps for doing so.
The reason for this, Google and Apple are very much against the promotion of gambling apps on their Google Play and iTunes stores.
Nonetheless, sportsbooks have sorted this issue out with mobile friendly websites and even webapps, which are websites designed to run fast and user friendly on mobile devices. The main difference from a real app and a webapp is the fact that apps do not require to be connected to the internet for all functions, although for a sportsbook you kinda do.
A few of the very big online sportsbook have ignored this market hiatus and developed their own betting app anyway, with the download happening straight from their website.
William Hill Sports Betting App
William Hill is one of Europe's most long standing sportsbooks with more than 60 years in the market. Aside from offering a sportsbook's app, users can also download the bingo app for Android devices.
With this app, sports fans can enjoy to the fullest the live betting market, were bets can be placed as a match is happening. Is fast, easy and reliable. Enjoy In-play betting or live betting on football and tennis matches.
Download Now: William Hill Apps available for your current device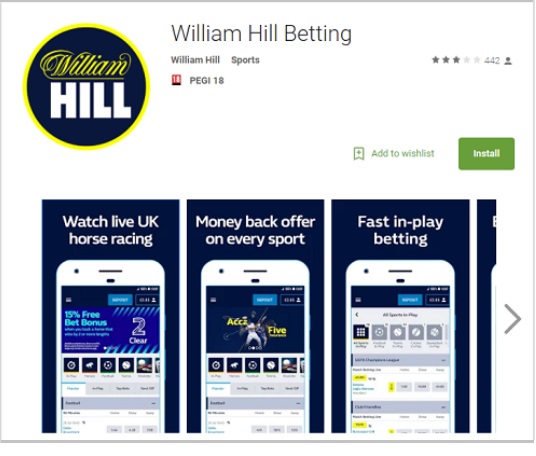 Special Offers
Some bonus offers are only available through the betting app. Exclusive free bets and cashbacks for horseracing and football betting.
For UK racing fans, stake on any Live Channel 4 races and if your horse comes in 2

nd

you´ll receive your bet back, available to use on any other event.

For football 6 team accumulators, if only 5 teams win your stake will be refunded as a free bet.

Select a first goal scorer, if they score second you will be refunded with a free bet!

Enjoy a Correct Bet Score, if the match ends 0 – 0 then William Hill will award you with a free bet of the same price.
How to Install the App
The process is simply and easy to follow, just a few manual configurations to avoid the warnings:
Download the app. There is no need for registration. The .apk file will begin its download. Begin the installation following the phone's instructions.

Agree to the Terms and Conditions upon reading them. Note the user will still be required to be connected online to make use of the app, or the markets will not be updated.

The following configuration changes will be required to finish the installation if you get the phone's warnings. Android will display an "Unknown Source" alert.
Go to "Settings" and select "Application Settings" or "Security", go to "Unknown Sources". The block on apps not downloaded from the Android store will be deactivated.
Go back to the main panel and tap WH-Sportsbook.apk to continue the installation.

If you get an additional warning "Can´t Open File", then your version of Chrome is blocking the app from getting installed.
Go to "Apps", then "Tools", "My Files" and tap the "William Hill apk file to force the installation.
GAME RESPONSIBLY