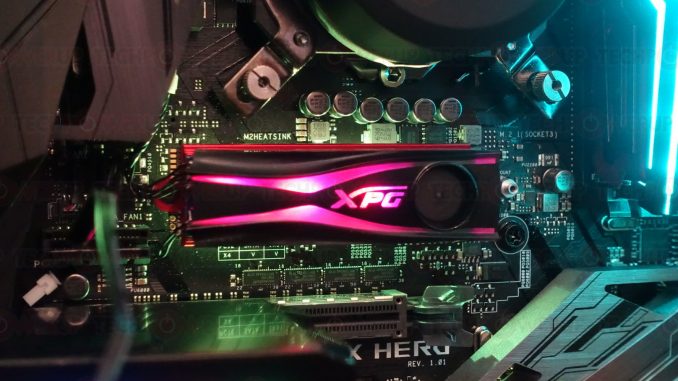 Interesting … I thought RGB is phasing out in 2018. Not so apparently 😛
Thermal throttling is a big problem for M.2 NVMe SSDs, with drives losing up to 30 percent in sequential transfer rates when overheated. ADATA, with an M.2 SSD product spanning nearly all price-points, is taking the issue of throttling heat-on with its XPG Storm RGB M.2 SSD heatsink. The cooler consists of a chunky aluminium heatsink with coverage area for M.2-2280 drives, a tiny lateral-blower fan, and a cooler shroud with RGB LED lighting. ADATA claims the heatsink reduces temperatures by up to 25 percent.
Its RGB LED lighting supports standard headers, and can be controlled using standardized software such as ASUS Aura Sync RGB, GIGABYTE RGB Fusion, MSI Mystic Light RGB, etc. Unfortunately, the heatsink appears to add Z-height that makes it unfit for M.2 slots located between PCI-Express add-on card slots. At best they're suited for boards with M.2 slots above the topmost heatsink, or just south of the PCH heatsink. The heatsink relies on adhesive thermal-pads and its installation is tool-free.
Source: TPU