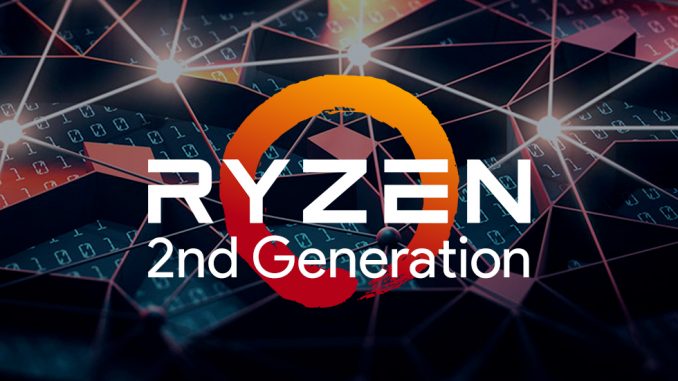 2nd Generation AMD Ryzen™ Processors: Ultimate Desktop CPUs for High-Performance Computing Available April 19 Worldwide
2nd generation AMD Ryzen processor lineup offers world's highest multithreaded performance desktop processors in its class; immediate pre-order availability from more than 150 retailers and boutique PC manufacturers.
One year after the first release of the award-winning AMD Ryzen processors, AMD (NASDAQ: AMD) announced pre-orders begin today worldwide for the eagerly anticipated 2nd generation AMD Ryzen desktop processors, with disruptive levels of compute performance at each of four price points1. Delivering high-performance computing and innovative new features, 2ndgen Ryzen desktop processors are built to create faster and smoother computing experiences for PC gamers, creators, and hardware enthusiasts.
"Second generation Ryzen desktop processors take everything that made the original Ryzen so groundbreaking and makes it better – great performance combined with advanced technology to deliver an amazing experience for the most demanding users," said Jim Anderson, senior vice president and general manager, Computing and Graphics Group, AMD.
2nd Generation AMD Ryzen Desktop Processors Lineup
This 2nd gen Ryzen desktop processor lineup includes two 8-core, 16-thread models and two 6-core, 12-thread models, all offering major upgrades and advanced AMD SenseMI technology2.
| MODEL | ​CORES | ​THREADS | ​CLOCK SPEED MAX BOOST/ BASE (GHZ) | ​SMART PREFETCH CACHE | ​TDP | ​COOLER | ​SEP (USD) | ​AVAILABILITY |
| --- | --- | --- | --- | --- | --- | --- | --- | --- |
| ​Ryzen™ 7 2700X | ​8 | ​16 | ​4.3/3.7 | ​20MB | ​105W | ​Wraith Prism (LED) | ​$329 | ​Apr 19 |
| ​Ryzen™ 7 2700 | ​8 | ​16 | 4.1/3.2​ | ​20MB | ​65W | ​Wraith Spire (LED) | ​$299 | ​Apr 19 |
| ​Ryzen™ 5 2600X | ​6 | ​12 | ​4.2/3.6 | ​19MB | ​95W | ​Wraith Spire | ​$229 | ​Apr 19 |
| ​Ryzen™ 5 2600 | ​6 | ​12 | ​3.9/3.4 | ​19MB | ​65W | ​Wraith Stealth | ​$199 | ​Apr 19 |
For the first time, the entire line of 2nd gen Ryzen desktop processors include a world class AMD Wraith cooler inside the retail box. The AMD Ryzen 7 2700X CPU PIB includes the new Wraith Prism cooler, which offers improved thermal performance over the Wraith Max, a more compatible fan profile, and enhanced lighting capabilities with per-RGB controls.
All 2nd gen AMD Ryzen desktop processors are supported by the new AMD X470 chipset, the most advanced, optimized, and efficient chipset to-date for socket AM4. This chipset comes with a free download of the new AMD StoreMI storage acceleration technology to combine the speed of an SSD with the capacity of a hard drive into a single, fast, easy-to-manage drive.
Motherboards with the AMD X470 chipset will launch alongside the 2nd gen Ryzen desktop processors, with designs available from top manufacturers including ASRock, ASUS, Gigabyte, and MSI. Compatible with all current AM4 processors, the new X470 motherboards augment the existing 300-series motherboards, which are also compatible with the new 2nd gen Ryzen processors after a simple firmware (BIOS) update is installed. Many motherboards in market are already coming with the updated BIOS, indicated by a "Ryzen Desktop 2000 Ready" label on the package.
Availability
For customers eagerly waiting for 2nd gen Ryzen desktop processors, etailers around the world are primed to begin taking pre-orders beginning April 13, at 9 a.m. EDT. On-shelf availability for these 2nd generation AMD Ryzen Desktop Processors is expected on April 19, and complete list of participating retailers can be found on AMD.com.
Source: AMD