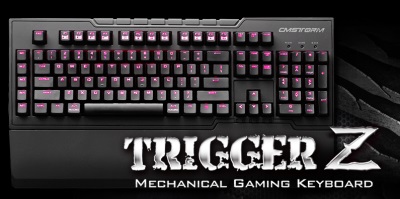 Cooler Master is looking to dominate the news feeds today with another announcement. This time Cooler Master unveils a mechanical keyboard that glows with the light of epic win. The Trigger-Z promises the ultimate in comfort and style.
"Taipei, Taiwan – 10/15/2013 – Cooler Master, a leading creator, innovator and manufacturer of desktop components and more, today unveiled the successor to the Trigger mechanical keyboard that launched the CM Storm Gaming keyboard line. Trigger-Z, a premium gaming hub and mechanical keyboard.
Fully Programmable Mechanical Keyboard
Utilize fully programmable macro and standard keys with profile management for up to five profiles and up to 75 macros. Significantly reduce setup times by storing profiles and key assignments within your Trigger-Z with 64KB of onboard memory. Stay ahead of the competition with easily downloadable firmware and software updates via the CM Storm Gaming site at: [Insert CM Storm Link for Trigger-Z]
Integrated multimedia keys make it easy to control your audio experience in and out of the action while the Trigger-Z Storm key can quickly disable Windows key input to avoid accidental presses during intense matches. Built-in audio outputs allow gamers to easily setup their gaming station all in one place.
Comfort is a key factor when sitting at the computer for long periods of time. A detachable wrist rest and non-slip rubber coating assist in preventing pains by providing proper support for wrists and reducing unwanted keyboard movements or slides.
14K gold plated ultra low latency USB connectors and high-grade braided cable ensure that the keyboard maintains a steady link to the PC.
Cherry MX Switches
Trigger-Z will be available in high quality Cherry MX Brown, Red, and Blue switches.
Availability
The Trigger-Z Gaming Mechanical Keyboard will be globally available. Price and availability may vary based on region. Please consult your local Cooler Master Representative for more information. About Cooler Master Cooler Master was founded to provide the best thermal solutions to our customers worldwide. Since its establishment two decades ago, we continue to invest in product development in order to provide the leading-edge innovations to people and businesses. Cooler Master's enclosure technology line-up includes heat sinks and fans, chassis, power supplies, function panels and accessories. Cooler Master has its headquarters in Taipei, Taiwan, with global branch offices located in Europe, America and APAC, so that we can offer to our customers the best service in time. For more information on Cooler Master, please visit www.coolermaster.com"
Source: Cooler Master