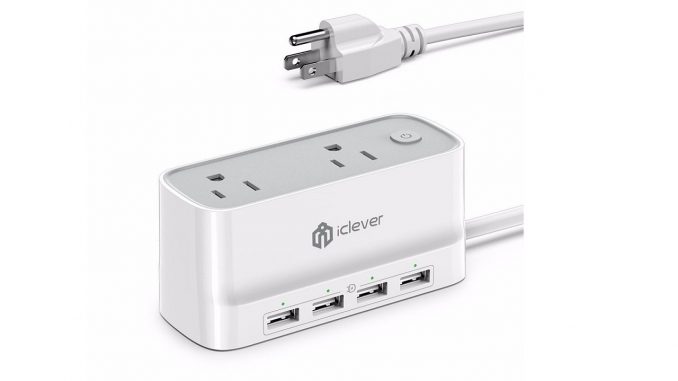 Today we will be reviewing the iClever Booststrip Portable Smart power strip and their 38W USB Wall Charger. I was looking forward to reviewing these products, because at my house there never seems to be enough outlets for all of our devices and Bluetooth speakers. IClever has always delivered solid products, so I had no doubt that this would be anything less than stellar. But before we take a look at the products, I'd like to give a shout out to iClever for sending us the samples, let's take a look at what they say about themselves on their website…
About us

iClever is a consumer electronics brand that seeks to use the power of technology to push the boundaries of smart living and inspire users to move faster, think outside the box and lead more connected lives.

Since the idea for iClever crossed the minds two college friends back in 2010, we have expanded to a globally recognized brand that has made its mark in 8 countries across 3 continents.

However, we're still just a group of gadget geeks with a common goal – to enhance people's lives, and help them to grow, connect and create through the power of technology.
Our Mission:

That's why, at iClever, our mission is to create smart technology that shines in both specs and speed, and wires together communities of hustlers, tech geeks, up-and-runners and young'uns with thein a push of a button. Because we're not just technology that works well. We're technology that frees you to run that race, amplify your beats and springs your steps.

Our Vision

In the tapestry of tech, we seek for iClever to be embedded in every minute of your day, and for you to make the most of your minutes with technology that helps you live with efficiency like never before.

But most importantly, we want to grow with you. With every new curveball life throws at you, or every new groundbreaking advancement the industry realizes, we promise to be in the constant pursuit of tech. Here at iClever, we will always be at the top of our "game" so that you will be at the top of yours. Now that's iClever.
Now let's go and take a look at the Power Strip and Wall Charger!
Buy the iCLEVER Booststrip Portable Smart Power Strip
and 38W USB Wall Charger
from Amazon for only USD $23.99 and $21.99 respectively.