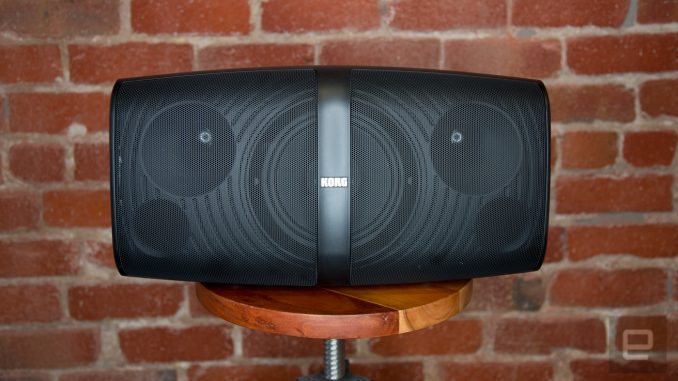 For large gatherings, PA systems keep you from just yelling at a group of people to share your message. For musicians, a PA is necessary to amplify your voice and instrument to an audience. On the surface, Korg's Konnect PA speaker does pretty much what every other speaker with a few mics attached to it does, make things louder so folks can hear them. But look a little deeper, and you'll see the Konnect takes what Korg knows about sound and performances and shoves it into a four-channel speaker. One you can control via a companion app that's surprisingly robust.
The $400 Korg Konnect is about the size of a boombox (ask your parents) with the usual volume knobs on the back. But it also has a voicing characteristics selector (male voice, female voice, guitar, etc) to help fine tune the sound. Plus it has a feedback suppressor button that reduces the annoying feedback whine that starts nearly every corporate get together and forces someone to run across the room to turn down the volume.
While the Konnect is good for public speaking, it's far more useful for musicians. Many a band (mine included) has had to do its own sound at a venue. That requires someone to leap off stage to make adjustments during songs if something goes awry. For smaller acts with one or two people on stage with a guitar, that's impossible without stopping the song. That's where the Konnect companion app comes in. You can just drag a slider on the phone to tame and offending sound.
Pros
Great for voices and acoustic guitars
Easy to use hardware controls
App controls are robust
Small and light. Two words bands love
Cons
Without the app it's not that exciting
It can't overcome large rooms and loud people
Loss end bass guitar playing gets muddy real quick
You lose channel ¾ with Bluetooth music playback
Summary
A niche app-controlled PA system that's great for small bands that play cafes, galleries and churches. Plus it's a solid, easy to set up speaker for meetings where the bosses really wants to project their voices about quarterly sales quotas.
Source: Engadget