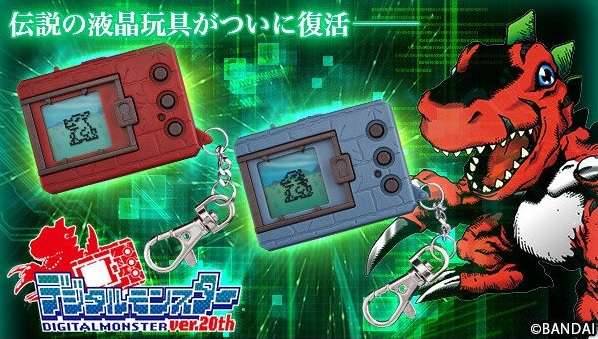 Now that Pokemon's 20th anniversary celebrations have finally subsided, it's time for the little sibling of the collectible monster craze to have its time in the spotlight. While no one is expecting the Digimon franchise to top a year that saw Pokemon Sun and Pokemon Moon break sales records and the utter dominance of Pokemon GO in the mobile games market, that isn't stopping Bandai Namco from going all out to honor its popular digital monsters.
To that end, Bandai Namco announced earlier today that the company would be offering gamers one of the most sought-after toys of the late 1990s in a heavily upgraded form. Bandai Namco will be rereleasing the original Digimon Digital Monster virtual pet devices in all of their boxy, three-buttoned, keychained glory later this year – with exciting colors like "Original Brown" and "Original Grey" on offer to mimic the original "Ver. 1" models released in 1997.
It won't just be one of the purest forms of video game nostalgia released in recent memory, though, as Bandai Namco will also be significantly upgrading the number of Digimon available while playing with the virtual pet device. The new 20th anniversary Digivice will feature Digimon from the first five versions of devices alongside those that were released during 10th and 15th anniversary celebrations as well. Gamers will even be able to digivolve much more powerful versions of Digimon than they would traditionally be able to on Digivice devices.
Of course, the new Digivice will also preserve what made the original such a compelling purchase when compared to the more popular Tamagotchi, as players will be able to battle each other using the Digimon they have raised. It's an appealing mixture of nostalgia and simple yet exciting combat that should serve Bandai Namco well after the Digimon brand experienced something of a resurgence following success in Digimon Story: Cyber Sleuth and Digimon World: Next Order.
Unfortunately, the 20th anniversary Digivice is only available for pre-order in Japan for now, and has no scheduled release date for North America or Europe. Fans of the Digimonseries shouldn't despair just yet, though, as Bandai Namco has shown an increased willingness to market their traditionally Japanese-only titles to the west in recent months, and that philosophy could extend to the company's virtual pet devices also.