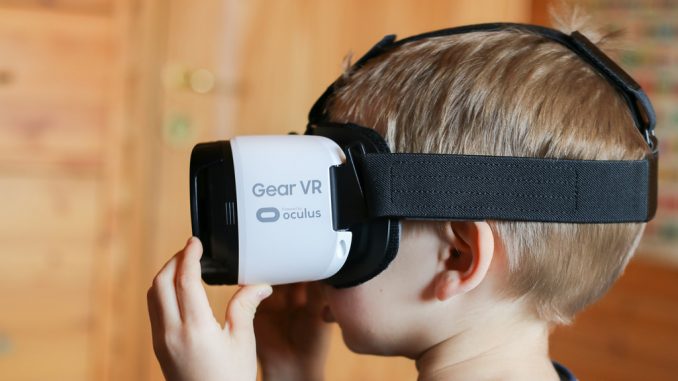 For the second year in a row, we're looking forward to 12 months of innovation in virtual reality. Last year, this largely meant watching the gradual rollout of VR headsets from various tech and gaming companies, as well as getting our first look at some of the available software for those headsets. In 2017 it will be a bit different. Now, we'll be looking for the tweaking and perfecting of VR applications, and hopefully gaining a clearer picture of just how these devices might begin to affect our lives.
These are a few educated guesses as to what the year ahead in VR might look like.
Education Will Drive Growth
It may not be as fun as talking about the various games we'll be seeing on VR, but education is coming up quite frequently as a potential hotbed of VR growth. A list of possible innovations pulled from an interview with an executive at HTC noted education as something that could drive the growth of the technology. The general thinking is that VR programs can provide teachers with entirely new ways of engaging with students.
Online Casinos Will Adopt The Platform
We've seen several popular gaming genres already embrace VR, from racing games to shooters. However, casino games have been somewhat slow to test out the new medium. Expect this to change in the near future. A detailed overview of gaming options at several prominent casino platforms online specifically notes that many are transitioning toward live dealer gaming, which is almost a form of virtual reality in and of itself. With players engaging with and enjoying this sort of simulation, VR is a natural next step. VR could soon become the next major avenue for this popular genre of gaming.
VR Will Decide The Smartphone Market
We've already seen that some of the most popular smartphones on the market are being made to work with affordable VR headsets. The Samsung Gear VR works with Samsung Galaxy devices and the Google Pixel phone was released alongside a new headset called Daydream VR. What makes 2017 particularly interesting in this regard is that Apple is expected to announce a new iPhone (the iPhone 8) in the fall. At the rate VR is growing, Apple is backed into a corner, and if the iPhone 8 doesn't come with its own VR capabilities, we could begin to see the company losing serious ground to its competitors for the first time in years. With some sort of Apple VR, the status quo remains unchanged. Without it, Samsung and Google could begin to squeeze Apple toward a lower tier, as unlikely as that may sound.
Social Media Will Dabble In VR
Looking through predictions from VR experts one of the most interesting things you might come across is a Virtual Umbrella executive's assertion that Twitter will get involved. He speculates that Twitter will be integrating 360-degree photos and videos into its platform. One can't help but wonder how other various social media companies might begin to adapt to VR, but we should expect some exciting efforts.
There Will Be Unexpected Breakthroughs
This may not be a particularly bold prediction, but it's worth noting all the same. As stated by the co-founder of Northway Games, the biggest breakthroughs are going to come from unexpected sources. VR is a unique technological phenomenon in that it became very widespread almost as soon as it emerged. As a result there are all kinds of companies and independent developers working on different ways to use it, and it's nearly impossible to say when one might strike gold with a brand new idea. This, more than any anything else, is what makes 2017 so exciting.