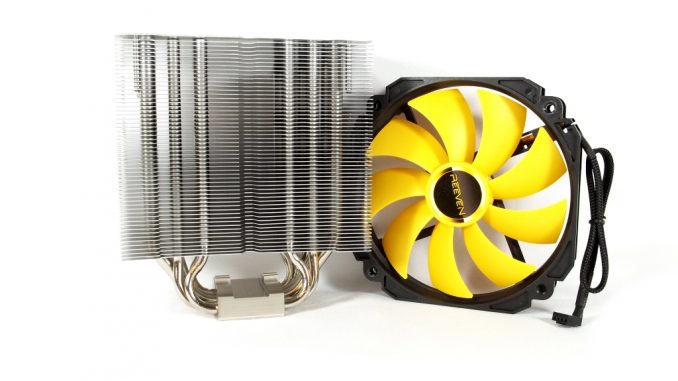 Today I will be introducing you guys to REEVEN. For some of you, like me, may have never heard of these guys. I was just browsing Newegg one day and came across this brand and I was intrigued in their product line. So I made contact with one of their guys and they were nice enough to send us a couple of their coolers and fan controllers. Big thanks to REEVEN for the opportunity to review their products. So far I have been impressed with the quality of the cooler we are taking a look at; the Ouranos 140mm: today. I wont waste anymore time, so lets get to the good stuff and see what this coolers all about!
OURANOS is a single tower CPU cooler with a 140mm fan.
Its SAA (Speed Switch Adapter) cable allows for greater cooling efficiency while keeping noise at a minimum. The optimized structure and mechanical design, which does not conflict with RAM space, makes this cooler compatible with most platforms on the market. Long-shaped aluminum fins allow for maximum heat dissipation. Slim structure gives wide range of compatibility without conflicting with RAM space. 6 high-quality heatpipes guarantee superior performance.
I would like to thank REEVEN for providing this review sample! Let us see what they have to say about themselves on their website:
REEVEN was established with a simple concept in mind: creating "Perfect user experience" in the computer market. It all started at a small office in Taiwan back in 2009, with a group of experienced and passionate engineers. Today, REEVEN is one of the most well-known suppliers of high performing computer components, holding numerous top-grade reviews and ratings.

Even though much has changed since 2009, REEVEN still stays true to our founders ideals: creating and designing products with Profession, Quality and Value, and always being open to ideas and suggestions from our customers.
Next page Features and Specs …