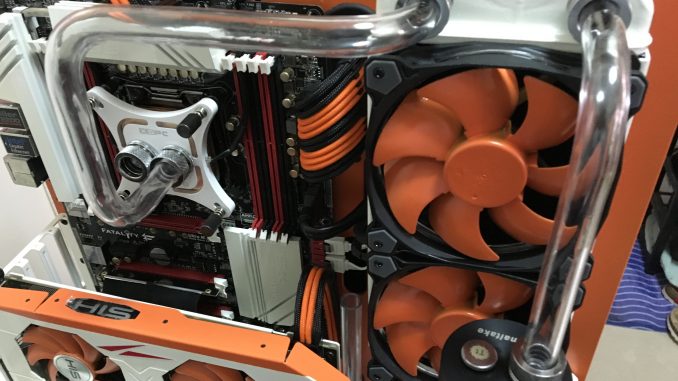 Thanks to Thermaltake, we'll be taking a look at the Pacific RL240 D5 Hard Tube Water Cooling Kit, which we will also be using for our cooling as part of our Project Core Arancio PC build.
Many years ago (15 years to be exact), if I wanted to go watercooling for my PC, I really wouldn't know where to start. Back then, the market was flooded with hundreds of non-standard components, watercooling parts, and numerous fittings of various sizes. It was both confusing and mind boggling. There wasn't many watercooling kits available, and the ones you could find were cheap and nasty.
I SO wanted a company that would offer a complete watercooling kit with all the necessary and correct components, including the right fittings, waterblock, radiator, pump, tubes, coolant and fans. It's now 2016, and we do have a manufacturer who did just that! … Meet Thermaltake and their "Tt LCS Certified" hallmark. More information here.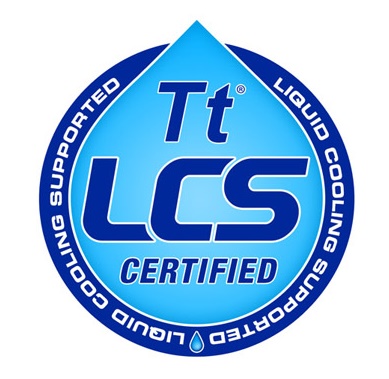 "Tt LCS Certified" is the hallmark that ensures first-class performance from the best features and fitment. A certification exclusive to Thermaltake, it sets the benchmark for all true LCS chassis and is applied only to products that meet our stringent design standards for delivering what hardcore enthusiasts demand. The Tt LCS certification is a way for Thermaltake to designate to all power users the chassis which have been tested for best compatibility with extreme liquid cooling configurations.
Thermaltake Pacific RL240 D5 Hard Tube Water Cooling Kit
As part of its "hardcore" spirit towards the ultimate in custom PC water cooling, Thermaltake has launched the new Pacific RL240 D5 Hard Tube Water Cooling Kit. The kit is composed of one Pacific W1 CPU water block, one Pacific PR22-D5 pump and reservoir combo, one Pacific RL240 radiator, four V-Tubler PETG tubes, six Pacific G1/4 compression fittings (chrome), two Riing 12 LED red fans, one C1000 Opaque coolant red and other accessories. Together, these provide exceptional performance, unrivalled reliability, and styling to enthusiasts.
The kit consists of the following components …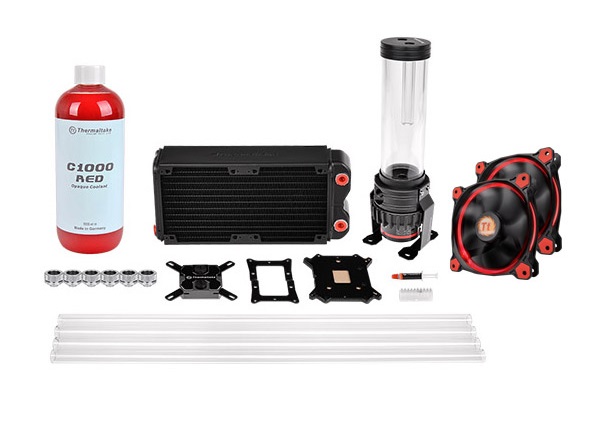 CPU Water Block
Pacific W1 CPU Water Block x1 Pump/Reservoir
Pacific PR22-D5 Pump/Reservoir Combo x1 Radiator
Pacific RL240 Radiator x1 64 (H) x 129 (W) x 282.5 (L) x1
Fittings
Pacific G1/4 PETG Tube 16mm OD Compression – Chrome x6
Fan
Riing 12 LED Radiator Fan x2
Tube
V-Tubler PETG Tube 16mm(5/8″) OD 500mm 4Pack x1
Coolant
C1000 Red Opaque Coolant 1000ml x1
Accessory
Intel and AMD Universal Backplated & Mounting Kit
24pin ATX Bridge Tool x1
Thermaltake Thermal Grease x1