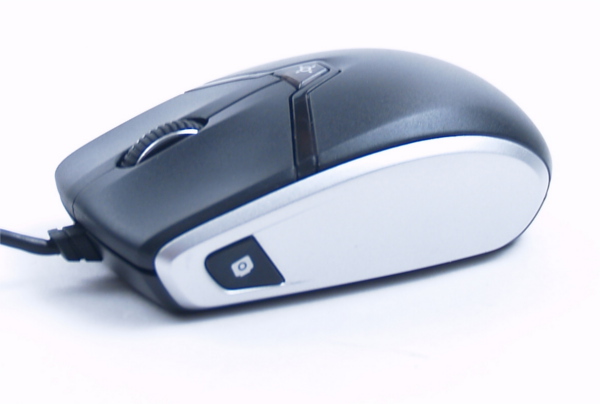 A mouse with a built-in webcam? Well, why not? Right? I mean everything has a camera these days, so it's only logical that you'd put one in a mouse. It's a neat idea anyway. That idea being: to ease the transition from shopping for expensive hardware to answering skype calls from your next-door neighbor. But I honestly wasn't sure what to expect from a mouse-cam. It never really crossed my mind until now, so let's all see if it's worth the investment.
But first a quick word from the company itself:
Vision – Create Infinite Value With a Magic Touch

Our business model, the conglomeration of OBM and OEM is run very effectively, which not only created unprecedented sales revenue growth for five continuous years for KYE but also created tremendous profit to our customers and shareholders. KYE expects to continually grow in the coming future.
Competition is everywhere in the IT industry. To cope with this challenge, KYE will keep enhancing its core technology not only in Pointing Devices, Digital Imaging and Gaming products for PC, but also developing more accessories and components for mobile phones.

KYE has envisioned this trend, and will "Create Infinite Value with a Magic Touch". We believe this can be accomplished through the Magic Touch of KYE products, which can bring convenience, efficiency, and entertainment to all of us. We expect this trend will enable us to reach double-digit sales growth in the next ten years.
Mission – Create a Totally Free Environment & Enjoyment

To envision and to fulfill our goal of creating an agile wireless world, KYE has dedicated its major resource in core wireless technology to design and innovate a totally free environment of personal interface products. Since the boundary between IT industry and consumer electronic field is not as clear as before, our target market is not only in the IT field but also in the mobile phone segment. Therefore, KYE stipulates "Create a Totally Free Enjoyment & Environment" as its mission.

Based on this mission, KYE has numerous product and marketing plans this year so you will see many new innovative products (wireless input device, digital camera, home theater, .etc). We expect these new products will bring more fun to the user, so all of us can benefit from it.
This mouse isn't necessarily built for gaming as much as all-purpose/proof-of-concept. That said, we'll still see how it performs in various types of games: FPS, RTS, and even an RPG or two.