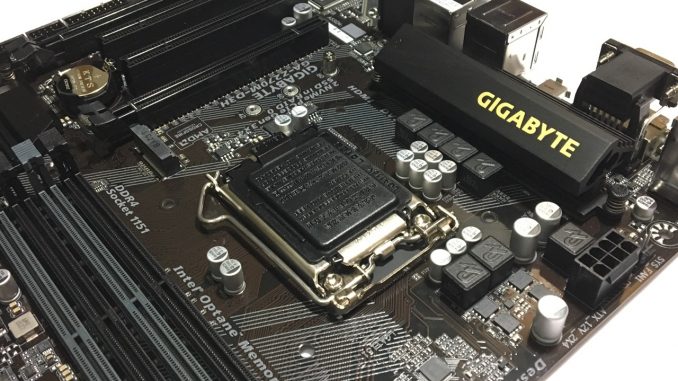 Thanks to the FUNKYKIT team, we will be taking a quick look at the Gigabyte GA-Z270M D3H Motherboard. This our first Z270 motherboard review here at Funky Kit (so lucky you Gigabyte!). It will be short review high-lighting the features of the motherboards, and will include photos and a short video with some benchmarks.
Many people are asking what are the real differences between the hugely popular Z170 and the newer Z270 motherboards. Well, to be honest with you … not a lot! Apart from the extra PCI-E lanes found on the Z270. A total of 24x PCI-E 3.0 lanes for the Z270 vs 20x PCI-E 3.0 lanes on the Z170. In addition, the Z270 also support Intel's Optane Technology. Visit Intel's website for more information on the Z270 chipset.
The Gigabyte GA-Z270M D3H motherboard features the latest Intel Z270 chipset, and fully supports Intel's 7th/6th Generation Core i5/i7 Kaby Lake processors (LGA 1151), as well as DDR4 memory upto DDR4-3866 (OC). It's aimed primarily at the lower-end/budget market.
Having said that, it comes packed with some great features including USB 3.1, Smart Fan 5, Ultra-Fast M.2, Intel® Optane™ Memory Ready, DualBIOS, Ambient LED, 2 x PCIE 3.0 x16 slots (x16/x4) for 2-way Crossfire support, as well as a wide range of video outputs including VGA, DVI and HDMI. You get all of this, for an amazingly low and affordable price. For this reason, we decided to replace the motherboard on our Project Ice Stream 2 PC build with the Gigabyte GA-Z270M D3H instead.

Founded in 1986, GIGABYTE is committed to providing top-notch solutions that "upgrade your life". We are regarded as a pioneer in innovation with groundbreaking excitements such as Ultra Durable™ — a revolutionary technology that redefines the industry, WINDFORCE™ — exclusive heat dissipation design that builds for extreme performance, G1™ Gaming series and XTREME GAMING series—the perfect solutions for gamers and enthusiasts, P series — a powerful gaming laptop less than an inch thick, and BRIX series—a versatile mini-PC in the palm of your hand. GIGABYTE has continuously brought unique new ways of digital world and created marvelous products that empower you with meaningful and charming experiences.
To "Upgrade Your Life" is the idea behind GIGABYTE which conveyed our core values of innovation and inspiration. Our unlimited passion for technology drives us to be a worldwide leader in ICT industry and achieve brilliant reputations from the media and the public.

GIGABYTE is always consumer-oriented from the very beginning of product design to the end of value chain. With the focus on consumer needs, the delivery of customer experiences has been transformed into tangible and understood customer cares. Therefore, GIGABYTE has integrated the best quality of components to ensure outstanding stability and reliability and also built up a complete service network with hundreds of customer service centers around the globe. Behind everything we do is a clear focus on what our customers value. GIGABYTE has kept staying one step ahead of consumer desires to create unique connections and pursue your smile of satisfaction.
Ok, let's start by taking a look at the features and specifications of the Gigabyte GA-Z270M D3H motherboard, then later we'll show you the photo gallery and benchmarks. Buy now at Amazon – https://goo.gl/RQQUvu