Test Setup
Testing was accomplished on a blank formatted SSD. The drive used in our tests was first securely erased via software provided by their respective manufacturer and then updated to their latest firmware. For the test I tested the drive with as an active drive and between each test I ran TRIM and rebooted the system. As my sample sizes increase I will have comparable of drives but for now we will see the results of the Reactor. Our test setup consists of the following hardware: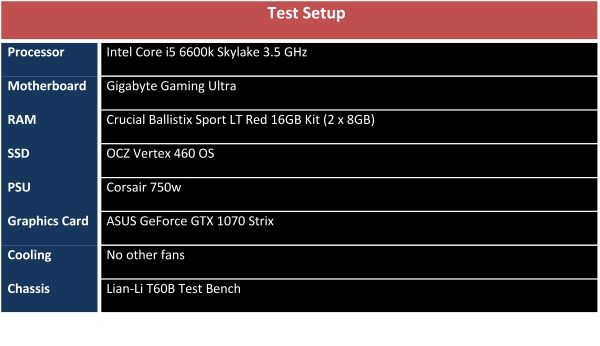 Performance
Just as a quick reminder of the advertised specifications from Mushkin. Sequential read 560 MB/s and sequential write 460 MB/s. Rated max read and write speeds are obtained using ATTO 2.46 at queue depth 10
ATTO Disk Benchmark v3.05
The ATTO Disk Benchmark application was designed to measure your storage systems performance with transfer sizes and test lengths for reads and write speeds.Several options are available to customize your performance measurement including queue depth, overlapped I/O and even a comparison mode with the option to run continuously. You can test any manufacturers RAID controllers, storage controllers, host adapters, hard drives and SSD drives.
ATTO Disk Benchmark Features:
Transfer sizes from 512KB to 8MB
Transfer lengths from 64KB to 2GB
Support for overlapped I/O Supports a variety of queue depths
I/O comparisons with various test patterns
Timed mode allows continuous testing
Non-destructive performance measurement on formatted drives.
Results: Max Sequential read 561 MB/s and sequential write 447 MB/s
Very close to advertised speeds. Out performed the Read specs!
AS SSD Benchmark 1.9.5986
The AS SSD benchmark determines the performance of Solid State Drives (SSD). The tool contains six synthetic and three copy tests.The synthetic tests determine the sequential and random read and write performance of the SSD. These tests are carried out without using the operating system cache. In Seq-test the program measures how long it takes to read a 1 GB file to write respectively. 4K test the read and write performance is determined at random 4K blocks. The 4K-64 corresponds to the test Thrd 4K procedure except that the read and write operations are distributed to 64 threads. This test should SSDs pose with Native Command Queuing (NCQ), differences between the IDE operation mode where NCQ is not supported, and the AHCI mode. The additional compression test can measure the power of the SSD in response to compressibility of the data. This is especially for the controllers that use to increase the performance and life of the cell compression, important.In the first three synthetic tests and the compression test, the size of the test file 1 GB. Finally the access time of the SSD is calculated, wherein the access to read over the entire capacity of the SSD (Full Stroke) is determined. The write access test, however, is done with a 1 GB big test file.
Results: Max Sequential read 497.6 MB/s and sequential write 408.6 MB/s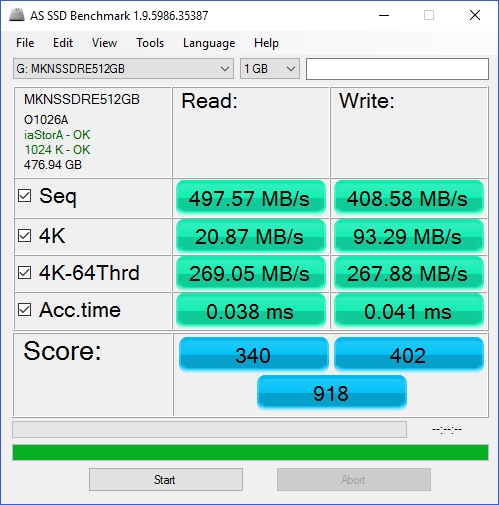 AS SSD always has seem to bench lower scores than every other bench mark out there so I am not concerned seeing these results.
Crystal Disk Mark
CrystalDiskMark is designed to quickly test the performance of your hard drives. Currently, the program allows to measure sequential and random read/write speeds.
CrystalDiskMark Features:
Measure sequential reads/writes speed
Measure random 512KB, 4KB, 4KB (Queue Depth=32) reads/writes speed
Select test data (Random, 0Fill, 1Fill)
Theme support
Multi-Language support
Results: Max Sequential read 546.5 MB/s and sequential write 438.5 MB/s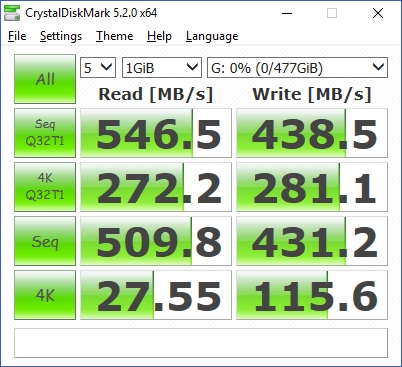 Once again very close advertised speeds!
AS SSD Benchmark Graph

There we have it! The Reactor 512GB brought to us by Mushkin! Let us cover a few final thoughts and conclusion of our review.