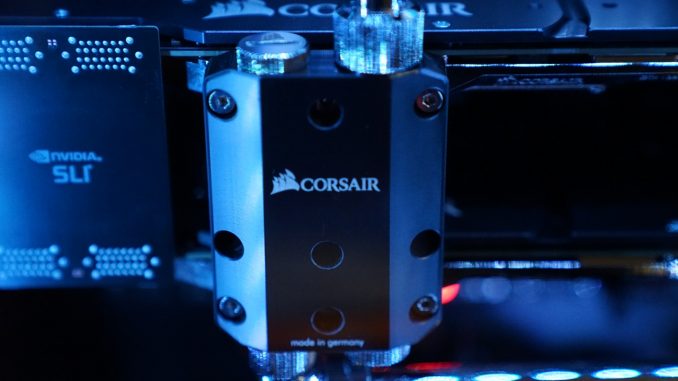 We revisit Corsair's suite at the Hyatt and this year, they got some new and exciting products on show. A wireless, rechargeable gaming mouse (plus charging mouse pad), it's called the Concept Zeus.
Corsair Concept Zeus and K68 Water Resistant Keyboard
They also had loads of other products including their water resistant keyboard, MP500 SSD, Concept Curve chassis (with carbon fiber), Concept Slate (dual motherboard chassis) and Dominator DDR4 ram
We also talked to Pascal about their new line of water cooling components, which he will be leading. We'll soon see Corsair branded CPU and GPU water blocks, fittings, radiators, pumps and reservoirs. I can't wait!!
Corsair Water Cooling Components
The Corsair One
And finally, their new flagship product … the Corsair One. It's a complete system designed for gaming enthusiasts that want great looks, good performance and sufficient cooling.
This system has it all. It has a mini ITX motherboard, 7700K chip, GTX 10 series graphics card all encased in a sleek aluminum chassis, and comes with convection cooling.
Concept Curve and Concept Slate
Related Articles