This is SO creepy … but funny!
The Japanese dream of having an idol hand-feed you tasty sweets is coming to two lucky fans.
Oh Japan. With a culture bursting at the seams with some of the worlds most confusing and bizarre foods, media, technology and habits, it can at times feel like you're almost trying to be the strangest country on the planet. Unsurprisingly, this same passion has translated fully to VR, resulting in just a whole bunch of brilliant Japanese VR experiences.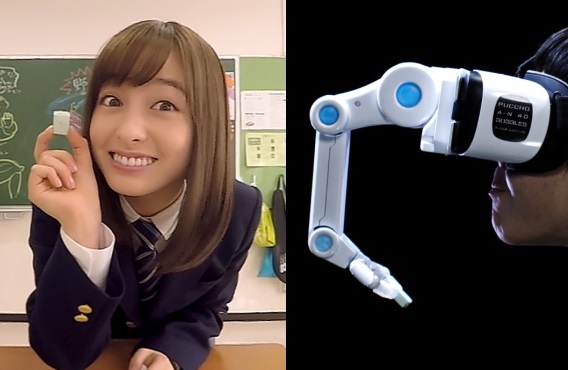 Of course the most prominent of these experiences center around interacting with virtual girlfriends, a common practice in modern Japan. We've seen AR girlfriend cafes, actual marriages to virtual wives, even VR ear cleaning by anime-style waifus. But out of all the many digital companion immersive experiences available, none of them gave Japanese users the one activity they've been desperate for: being hand-fed candy by a gorgeous idol.
Dream no more friends, as Puccho's 4-D candy-feeding headset and VR experience is on the way.
Sponsored by one of Japan's most popular chewy candies, the incredibly unnecessary VR headset comes equipped with a robotic arm that automatically feeds users the tasty treat while a young schoolgirl (shocker) feeds you simultaneously in VR. Who exactly is this dream-like model? Sparing no expense, Puccho employed the services of 19-year old Kanna Hashimoto, an immensely popular Japanese idol often described as a "once-in-a-millenium beauty."
Source: VRScout