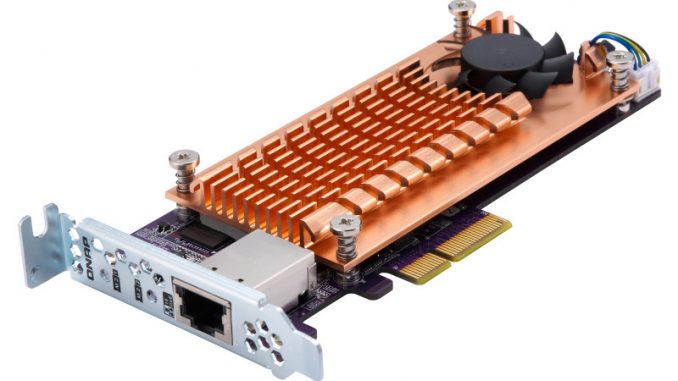 QNAP Systems, Inc. has extended the lineup of QM2 PCIe expansion cards with new models that support up to four M.2 SSDs slots on a single card. QM2 cards support either M.2 SATA SSDs or M.2 PCIe NVMe SSDs to enable SSD caching for boosted IOPS performance or to form an auto-tiering volume for optimal storage performance. QM2 cards also allow QNAP NAS users to maximize both storage capacity and performance by installing M.2 SSDs without occupying any 3.5-inch drive bays.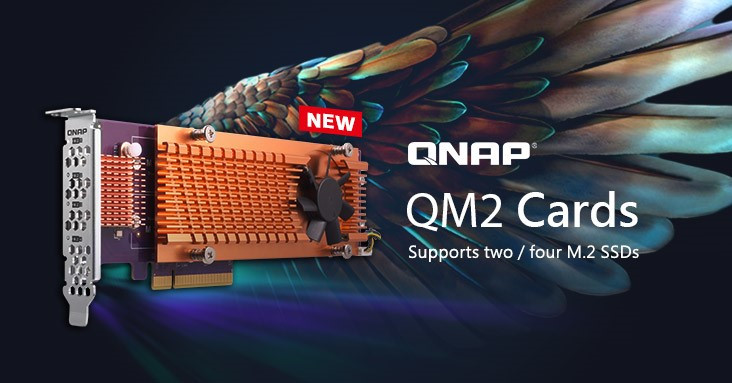 "When faced with a performance bottleneck, the random read/write speed of the hard drives in a NAS is one of the decisive performance factors," said Joan Hsieh, Product Manager of QNAP, continuing "QM2 cards can greatly boost the performance of QNAP NAS with PCIe slots, while the flexible configuration of SSD caching and I/O-aware Qtier all helps multiply NAS performance."
The innovative, well-designed QM2 cards now support additional QNAP NAS; the M.2 SSD thermal sensors allow real-time temperature monitoring, and a quiet cooling module (heatsink and smart fan) minimizes overheating risks and sustains constant high performance. QM2 models that support four M.2 SSDs allow for SSD caching with higher storage capacity to optimize IOPS-demanding applications, as well as supporting RAID 5/RAID 6/RAID 10 to provide redundancy against potential hardware failure.
QM2 cards include advanced models featuring additional 10GbE 10GBASE-T connectivity (backwards compatible with 5GbE/2.5GbE/1GbE/100MbE). Combining M.2 SSD and 10GbE connectivity into one solution, the QM2 helps improve overall NAS performance while providing an affordable upgrade path for adopting 10GbE networks.