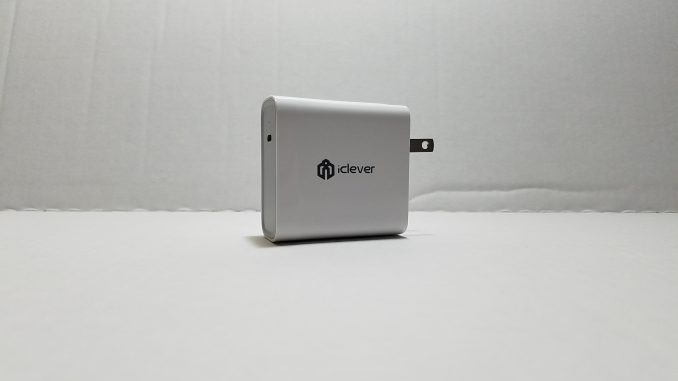 First I want to give a huge thanks to iClever for sending me this product to review!
Before the review here's a quick overview on who iClever is.
iClever® — Ever Clever

iClever devotes to the design and manufacture of bluetooth headsets, cell phone batteries, iphone cases, cell phone mounts. mobile phone and tablet accessories, computer peripherals.

At iClever, our overarching objective is to satisfy each and every customer with our eclectic gamut of quality products at unbeatable prices with unrivalled service."

Now onto the unboxing and product overview!
Product details
The following is the feature list and specifications found on iClever.com
iClever, ever clever than just smart
There is a quiet storm taking hold of the digital world, and iClever is at the eye of it. As a USB-C charger, BoostCube 45W PD is not only compatible with the future of fast charging, it fires up enough BoostPower to take on the big boys.

Whether you are turning a new page on your personal Macbook story or changing your tune with your Galaxy Note, BoostCube provides faster than furious power to phones, tablets and yes, laptops, like you've never seen before."
Boundless Charging

BoostCube 45W has great compatibility, being able to flip batteries from flat to full, whether it is a pocket-sized Google Pixel, or 12",13.5″, 15.6″ Apple MacBook (2015, 2016), ipad pro 10.5inch 29W, Nintendo Game Boy Switch fast charge, HuaWei Mate Book Xiaomi book. Also compatible with other USB Type-C devices, including: Galaxy Note 6, Lumia 950/950XL, Nexus 5X/6p, Note 5, OnePlus 2, LG G5, and HTC 10."

Besides this BoostCube 45W is also compatible with below devices:
Moto Z and MOTO Z2 / HP Spectre X2 210 G1/ Spectre Pro/ x360 G2 Tablet 608 G1/with usb-c connector

Dell XPS12 9250/XPS13 (9350& 9360& 9365) laptops/ XPS 15/ LATITUDE 7370/ 7275/ 11 5175/11 5179,VENUE 8 PRO 5855,/10 PRO 5056 tablets with usb-c connector

Lenovo X1 Yoga/ X1 Yoga 2nd/ X1 Tablet/ X1 Tablet Gen 2/ X1 carbon 5th/ Yoga 370/ Yoga

ThinkPad 13/13 2nd gen)/S1 3rd Gen/S2 2nd Gen/X270/T470/T470S/T570/P51S
Acer V15 Nitro /sf314 / ASUS GA-Z170X / MB169C+ 15.6 / Samsung Notebook 9 900X5L-K01
Specifications
Input: AC 100-240V 50/60Hz, Max. 1.2A
Output: DC 5V/3A, 9V/3A, 15V/ 3A, 20V/2.25A
Power: 45W
Dimensions: 60 x 60 x 30 mm / 2.36 x 2.36 x 1.18 in
Weight: 105g/3.7oz
Now onto the main review!
Pickup the iClever BoostCube 45W
Type-c charger here on Amazon