Specifications, Features and Installation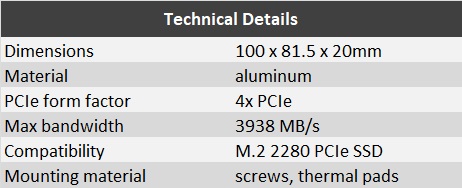 The HDX-2 arrived in a retail package which is small box. Package is not really suggesting what is inside except that on the small sticker we can find product name.
Inside the box we will find everything what is required for installation. There is user's manual, package with thermal pads and the HDX-2.
PCB of the HDX-2 is quite simple but looks good. We won't see it after installing heatsinks so it doesn't really matter how it looks like except that we know that quality is quite good. There is even nice Alphacool sign.
PCB is black so everything that won't be covered by heatsinks will still match other parts of the cooler.
We've received two HDX-2 coolers so tests will be performed on one and two drives. Above is also photo of our drives so Patriot Hellfire 240GB NVMe SSD.
Installation is well described in the manual but it's simple and more advanced users will already know how to make it.
Alphacool is adding two sets of thermal pads. One is dedicated for drives which have components on the one side of PCB and the other is designed for drives with components on both sides of PCB.
Installation is as simple as to install M.2 SSD into the socket, place thermal pads and install heatsinks. All required tools are in the package what makes everything easier.