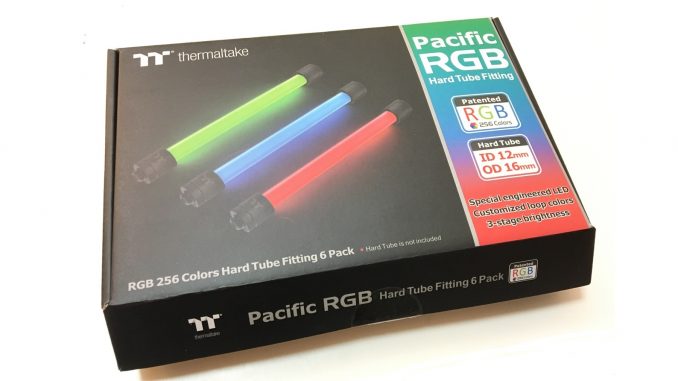 Thanks to Thermaltake, we'll be taking a quick look at their Pacific RGB G1/4 Fittings for PETG Tube 16mm OD 12mm ID. These G1/4 fittings are quite unique in that it comes with RGB. Yes, that's right … RGB! If you're not a fan of RGB, then turn away … lol!
During my early days of water cooling … I wanted to get a really cool effect on my loop (both tubes and coolant). The only way to do that, was add colored UV dye to my clear coolant (aka distilled water), then use a UV cold cathode tube to get the illuminated effect. The problem is that you're stuck with one color.
That was the old skool way but now, with the Thermaltake Pacific RGB G1/4 Fittings … you don't have to rely on UV dyes or UV cathode tubes. Just mount these fittings on and power them up. Now you have upto 256 colors to play with!! I love RGB … hahaha!
Buy the Thermaltake Pacific RGB G1/4
Fittings from Amazon for only USD $75.00 – http://amzn.to/2uYntqC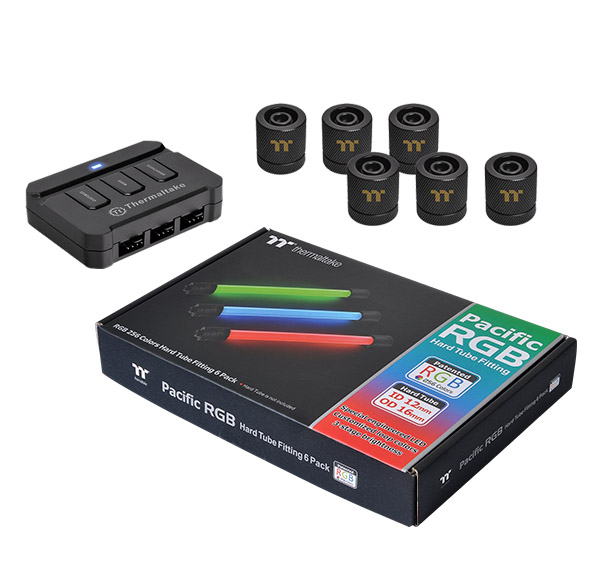 Pacific RGB G1/4 PETG Tube 16mm OD 12mm ID (6 Pack Fittings)
Make your system a showcase for all to see with the newest member of Thermaltake Pacific Series – the Pacific RGB G1/4 PETG fitting, specially designed for enthusiasts to meet the needs of setting up a complete but stylish water cooling system. A RGB LED lighting controller is included. With a patented circular 256 multicolored LED light and produced by durable copper, Thermaltake takes every detail seriously.
Tt LCS Certified
Tt LCS Certified is a Thermaltake exclusive certification applied only to products that pass the design and hardcore enthusiasts standards that a true LCS chassis should hold to. The Tt LCS certification was created so that we at Thermaltake can indicate to all power users which chassis have been tested to be best compatible with extreme liquid cooling configurations, ensuring you get the best performance from the best features and fitment.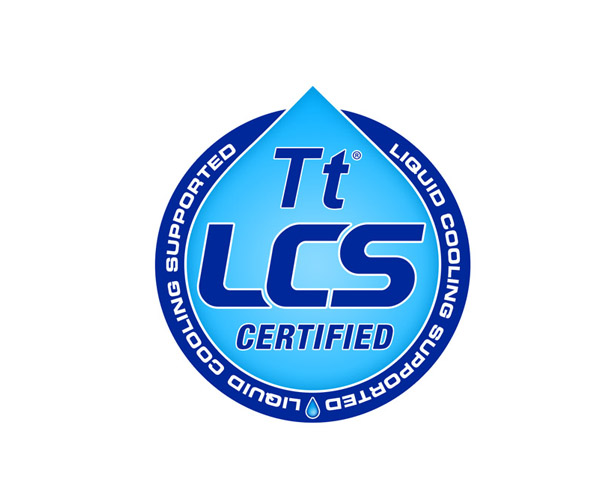 Patented RGB 256 Colors LED Light
The fitting comes with a special engineered LED light that can maintain color and brightness uniformity. The lighting effect is visible from all directions and adds style to the chassis.
RGB LED Lighting Controller – Adjust LED Brightness
Users can adjust the illumination of the lighting into three different phases by pressing the "BRIGHTNESS" button.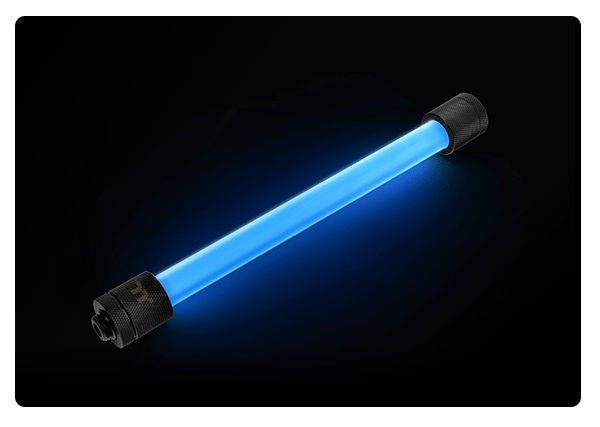 RGB LED Lighting Controller – Switch Over Between 7 LED Colors
The "MODE" button allows users to switch to blink function and set a solid color for the lighting. Users can choose from blue, green, red, white, orange, yellow and purple to brighten up their builds.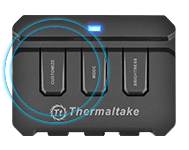 RGB LED Lighting Controller – Cycle Through a 256 Colors
By simply clicking the "CUSTOMIZE" button, users can start to enjoy their liquid-cooling systems with a multicolored lighting show.
High-Flow and Leak-Free Design
Made in Taiwan, the fitting allows proper connection to G1/4 ports, securing properly to cooling components while providing an even seal around the tubing. The fitting is included two preinstalled O-ring.
For tubes:
– Outer diameter: 5/8" (16 mm)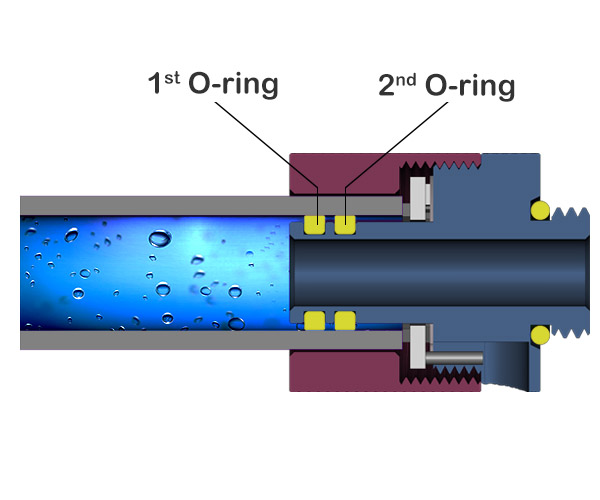 Remarkable Expansion
Thermaltake offers a full line of Pacific Series components for enthusiasts to build up aesthetically-superior water cooling systems by incorporating externally-modular upgrades for their chassis.
Thermaltake Riing RGB Controller Cable (Optional) – Can connect multiple RGB LED lighting controllers at the same time, and offer users a more flexible way to control their RGB fittings.
For more information, please visit Thermaltake's website …
Caution
Thermaltake recommends the following steps to be taken before using the Pacific series radiators and water blocks
To ensure a clean loop, flush and rinse your radiators and water blocks with distilled water prior to use.
Do not use tap water or distilled water as your coolant, it may harm your loop and reduce performance.
It is strongly recommended to use market proven pre-mix coolant, such as Thermaltake Coolant 1000. It offers great performance while protecting the entire liquid loop from corrosion.
Before storing your water cooling components, please clean, rinse and dry. This will ensure a longer lifespan for your components.
Thermaltake recommends the following steps to be taken after completing your water loop setup
It is strongly recommended to use market proven pre-mix coolant, such as Thermaltake Coolant 1000. It offers great performance while preventing the entire cooling system – copper, brass, nickel, aluminum, and steel – from corrosion.
Fill the reservoir with coolant and cycle the power on and off several times while the pump pushing the coolant into the loop.
DO NOT let the pump run dry, when there is no liquid entering the pump turn off your power immediately
Fill the reservoir to the top as it will prevent air from going into the pump
If necessary tilt the system slightly from side to side to bleed the air out of the loop.
Place some paper towels under fittings and joining points to test for leaks.
Run the loop with the fill port open for about 24 hours to completely bleed the air out of the loop
Before starting, flush out your system correctly to prevent any coolant or unwanted particles sticking to your tubes, radiators and other cooling comp
Specifications
| | |
| --- | --- |
| P/N | CL-W133-CU00BL-A |
| Compatibility | 16mm OD /12mm ID hard tube |
| Dimension | Ø25 x 31.4 H mm |
| Material | Copper |
| Threads | G ¼" |
| Weight | 720g |
| Note | 6 Pack (6 Fittings with 1 LED Controller Box) |
Photo Gallery
The package is typical of most water cooling components from Thermaltake … especially the RGB products.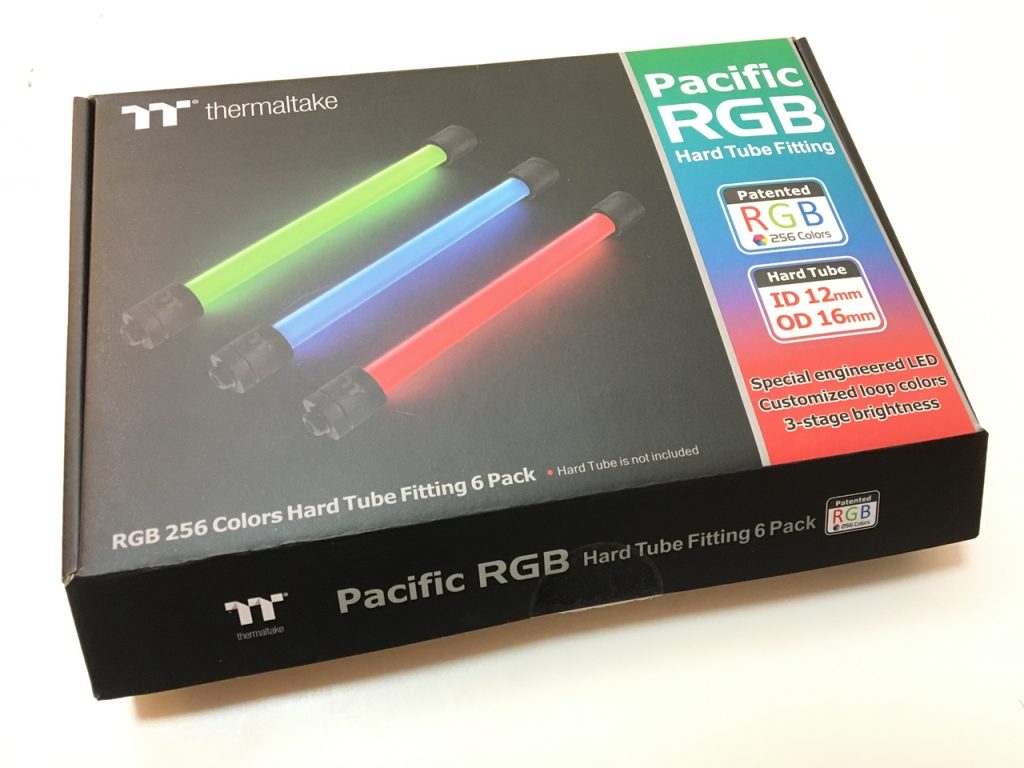 Inside, you will find the RGB LED controller, some velco pads and 6 x Pacific RGB fittings with G1/4 thread on one end and an insertion hole for 16mm OD / 12mm ID for PETG hard tubes.
A Closer Look
The fittings are made from copper and look and feel pretty solid. I do like the double o-rings which will help prevent leaks. The only concern I think is the LED circuit board. There's not enough protection in my opinion. However, it does a great job or illuminating the PETG hard tubes.
Other things to look out for … are the cables! Yes, you're going to get a lot of cables all over the place. So good cable management is needed 😉
The Finished Looks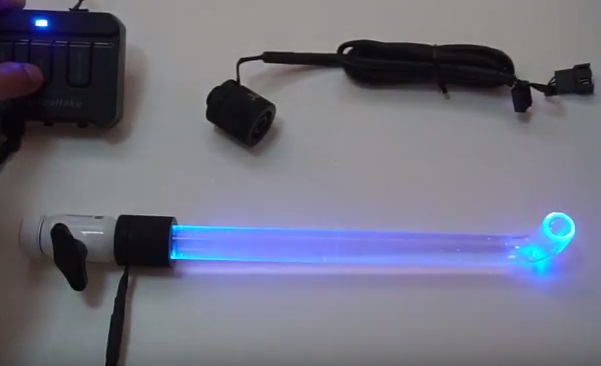 Verdict and Conclusion
Initially, I thought these RGB fittings from Thermaltake were just a gimmick, but after playing around with them, I have to say I'm pretty impressed. If you're a big fan of RGB and require some nice RGB lighting for your water cooling loop, then these RGB fittings could be what you're looking for.
Many die-hard modders who's in to water cooling, tend to stay away from Thermaltake. I have no idea why? Some say the quality is bad, while others just don't like the brand. Personally, I think Thermaltake water cooling products are fine. I've built many projects in the past with Thermaltake products – check out our Project Core Arancio.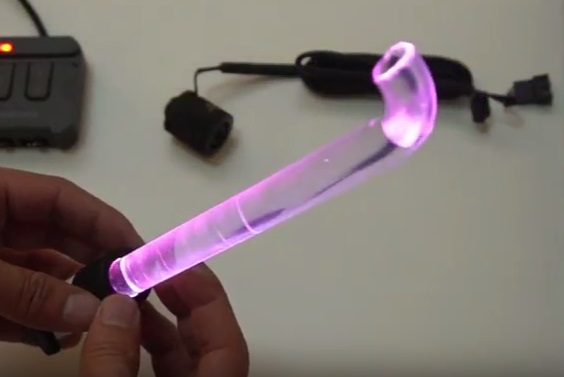 I have not seen any other manufacturer making these RGB fittings apart from Thermaltake. So in that respect, you'll have to give them credit.
If you're NOT a fan of RGB, then look away … but for all you crazy RGB junkies, you won't find another product like this. With 256 colors and customizable options via the controller, these RGB fittings make a great addition to your water cooled rig.
Buy the Thermaltake Pacific RGB G1/4
Fittings from Amazon for only USD $75.00 – http://amzn.to/2uYntqC