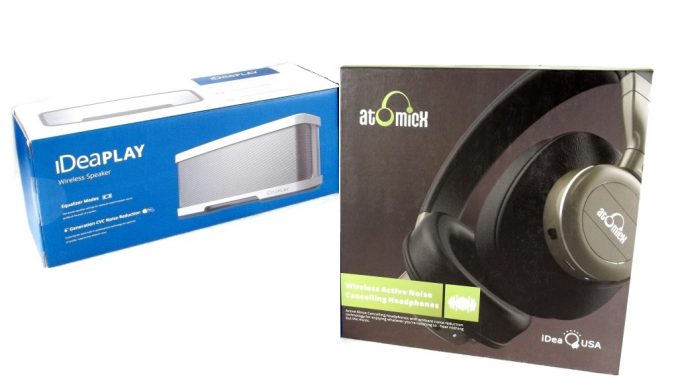 I want what everyone else wants when it comes to my audio devices; No distortion, deep bass and easy to set up and use. These are the 3 things I am always critical with when I choose my audio devices. Sound of course is the biggest factor. I like to hear the highs, high and the lows, low. Most of the time superb quality comes with a pretty hefty priced tag. One thing really hard about making a purchase of any audio device online is the not knowing. What I mean by this is you can not hear it before you buy it. If the sound is the most important factor than I am left with the opinion of another person and that person may prefer different levels of an optimum experience. In my conclusion I will express all my highs and lows of these two devices. So until then let us see what these have to offer with the features and specification on the next few pages.
"Powerful 20W Wireless Speaker, dynamic 2.1 channel sound delivered by 2x 5W drivers, 1x 10W subwoofer and 2x passive radiators – delivers amazing sound in a compact 7.0″x 3.0″ package solid competitor to leading Bluetooth Speaker brands – good looking, great sounding."
"TURN DOWN AMBIENT NOISE TO A WHISPER WITH A FLICK OF A SWITCH: Active noise cancelling technology removes distracting surrounding noises for a calming, private listening experience just for you – great for reducing the noise of city traffic, drone of a plane cabin or hubbub in a busy office."

I would like to thank iDeaUSA for providing this review sample! Let us see what iDeaUSA has to say about themselves on their website:
The little engine that keeps going.

 iDeaUSA™ is a technology company focused on bringing innovative solutions to children and adults.

Launched in 2011, iDeaUSA is based in sunny Southern California in the city of Long Beach. Our team strives to bring quality and affordable products to the everyday user without any limitations of proprietary technology.

Our Promise

 Ready to Rock—Right Out of the Box!
Our tablets are smartly provisioned with the latest operating systems, popular apps, and innovative features (like voice control) so that customers can be up and running in seconds, enjoying a better experience, without the need to visit countless download sites for upgrades. iDeaUSA's WelcomeApp helps new users simply and quickly configure the device, optimize personal settings, and get the most from their tablets right away.
Universality
iDeaUSA avoids proprietary sockets, memory slots, and audio/video I/O ports. Instead, we arm our products with a category-leading host of industry-standard connection options that ensure seamless compatibility, without the need to buy a bunch of extra parts, pieces, gender-benders, and oddball cables to hook everything up!

Optimization
It's one thing to design something that looks great, and has "all the right stuff" baked into the product offering. But merely throwing great ingredients into the mix certainly won't ensure a perfect cake. iDeaUSA designs products that thoroughly integrate the software and hardware together in a fashion that is artful, and pays critical attention to the details of getting everything just right. Doing so ensures a streamlined user interface, smooth on-screen animations and touch-gesture tracking, rapid boot-up at start, clever firmware that ensures responsiveness of physical buttons and controls, etc. Collectively, this work results in a better experience!
Affordability
iDeaUSA is vertically-integrated, strategically managing design, development and testing in the USA, and best-practices manufacturing in East Asia. We also directly manage distribution, fulfillment, and warranty returns to and from our retail channel partners without intermediaries. By controlling all aspects of the business directly, we achieve efficiencies that help us minimize our costs. Further, we eschew fancy marketing and sales campaigns, celebrity endorsers, and over-the-top packaging that drives up prices. Collectively these practices allow us to provide a superior product, and exceptionally competitive end-user pricing.

Social Responsibility 
iDeaUSA believes that corporations are required to be socially responsible. Social Responsibility are actions that better society, and all corporations as well as people have this duty to work towards this goal. No entity is perfect, but we should all have plans that give back to the place we earn a living. iDeaUSA's goal is to make tablets that help people with their lives.
Now let's take a closer look at the specifications and features in our next page…