Performance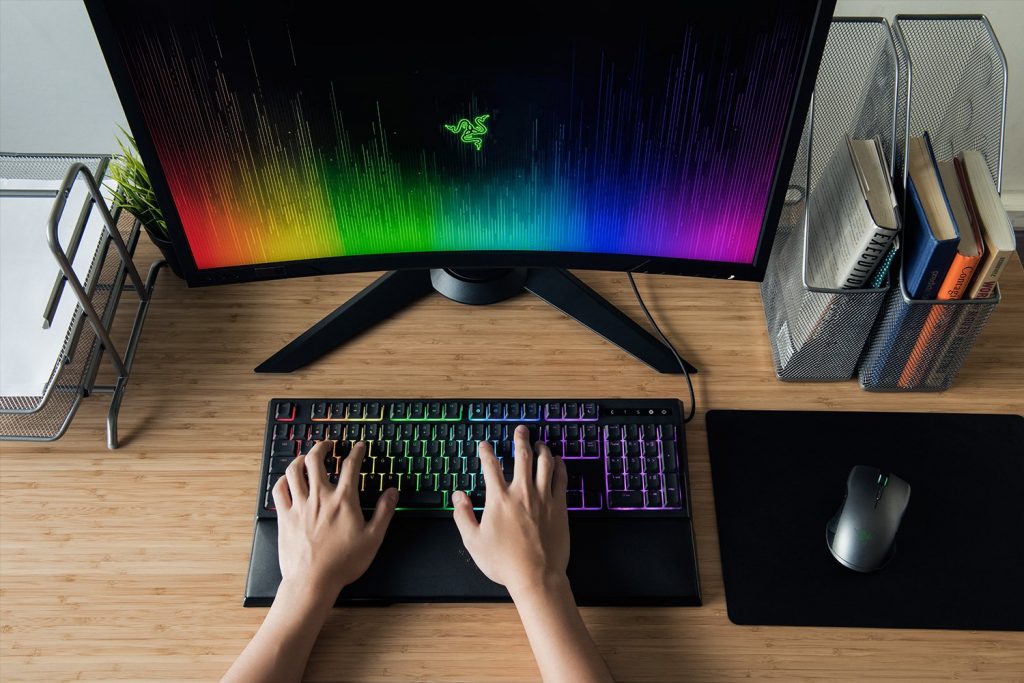 Design
The Razer Ornata Chroma is the perfect choice for the minimalist. It's absolutely gorgeous with it's mid-height keys and lack of dedicated multimedia controls and macro keys. All the extras are accessed with the use of a function button and Razer are therefor able to create a keyboard that has all the functions you need without adding to the overall size of a normal keyboard.
There's nothing more than a braided cable and a pair of keyboard feet for you to worry about. No USB hub, no macro keys, no displays or other "gimmicks". Just a great keyboard.
Included in the package is also a very comft wristrest that is standalone and can thus be easily removed for when you are about to go "tryhard" and show your friends who's boss.
Initial setup
The Ornata does lack dedicated macro/multimedia keys, but I do suggest you peek through the quick-start guide so you know what all the function-key combinations does.
You have direct access to multimedia controls, macro buttons, lighting and even a "game button". The latter gives you the option to, when activated, disable certain buttons and combinations such as Alt+F4 or the Windows button. This is a nice feature since it eliminates the risk of undeliberately pressing down the Windows button.
By downloading the Razer Synapse software you are able to get full control of your keyboard, with the ability to rebind buttons, change lighting themes etc.
You can even turn on Stat Tracking and have your computer register your keystrokes so you can see how you perform in several different games.
Mecha-Membrane
Over the years I've been testing out more keyboards than I can remember and I've tried every single Cherry switch out there, as well as a few other "game changing" switches. The Razer Mecha-Membrane is in a class of it's own though. You get a switch that is very easy on your fingers and gives a soft feel while you still get that crisp tactile click we all have come to love!
I've been using Cherry MX Red as well as MX Speed for quite some time now and while both of these switches are great, the Mecha-Membrane just gives a much better allround feel. It's just as comfortable to write up a few reviews on a sunday night as it is to hook my friends up with some chicken dinners.
Some of you might not appreciate the click of a mechanical switch, but then again… why would you even read a review of a mechanical keyboard if you don't want that tasty tactile click in your life?
Comfort
When it comes down to pure comfort Razer has you covered by including a very comfy wrist wrest. At first I thought it was a bit to high in comparison to the keyboard but after using it for some time now I've come to love it, especially when I'm about to type down a lot of text.