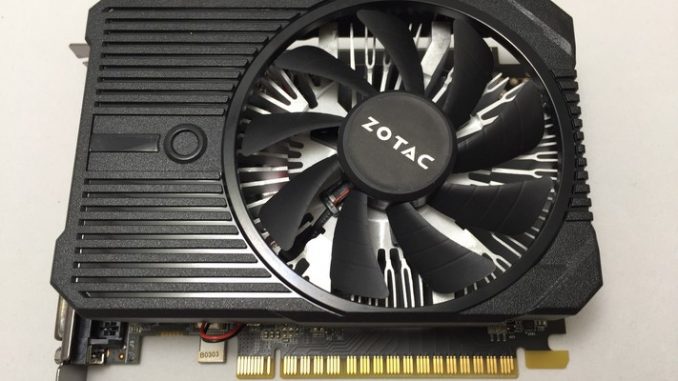 Today, with a big thanks to Zotac, we'll be taking a look at the Zotac GeForce GTX 1050 Ti Mini (4GB GDDR5) graphics card. It's aimed at the lower end of the market for gamers who are on a budget, but want the latest graphics architecture from Nvidia.
Nvidia has already wow'ed us with their GeForce GTX 1060, GTX 1070 and GTX 1080, and we have seen how the GTX 1050 Ti reach out to the lower of the market, but just how well does the smaller brother of the GTX 1050 Ti perform?
Everyone deserves great gaming. That's why we created the fast, powerful ZOTAC GeForce® GTX 1050 Ti Mini. Now you can turn your PC into a true gaming rig, powered by NVIDIA Pascal™–the most advanced GPU architecture ever created. It's loaded with innovative NVIDIA Game Ready technologies that let every gamer experience the latest titles in their full glory in super compact form.
The GeForce GTX 1050 Ti Mini uses the same Pascal architecture as found on all of Nvidia's 10-series. However, it features only 768 CUDA cores, a lower clock rate of 1303MHz, 128-bit memory bus, a lower memory speed of 7Gbps and less VRam of 4GB GDDR5.
Although Nvidia reduced a lot of features on the GeForce GTX 1050 Ti Mini, it should be adequate enough to run most games. But don't expected 4K or 60FPS gaming. Again, I have to remind you … this card is aimed at the entry-level market, so don't expect and bells and whistles.
Here's a quick comparison of the GeForce GTX 10-series from Nvidia (default reference specs) …
| | | | | | |
| --- | --- | --- | --- | --- | --- |
| | GeForce GTX 1070 | GeForce GTX 1060 | GeForce GTX 1050 Ti | Zotac GeForce GTX 1050 Ti Mini | GeForce GTX 980 |
| Architecture | Pascal | Pascal | Pascal | Pascal | Maxwell |
| CUDA Cores | 1920 | 1280 | 768 | 768 | 2048 |
| Frame Buffer | 8GB GDDR5 | 6GB GDDR5 | 4GB GDDR5 | 4GB GDDR5 | 4GB GDDR5 |
| Base Clock Speed | 1506 MHz | 1506 MHz | 1290 MHz | 1303 MHz | 1126 MHz |
| Boost Clock Speed | 1683 MHz | 1708 MHz | 1392 MHz | 1417 MHz | 1216 MHz |
| Memory Speed | 8 Gbps | 8 Gbps | 7Gbps | 7Gbps | 7Gbps |
| Memory Bus | 256-bit | 192-bit | 128-bit | 128-bit | 256-bit |
| DX12 Support | Yes | Yes | Yes | Yes | Yes |
| Vulkan API | Yes | Yes | Yes | Yes | No |
You can buy the Zotac GeForce GTX 1050 Ti Mini
from Amazon for USD $130.00
Related articles