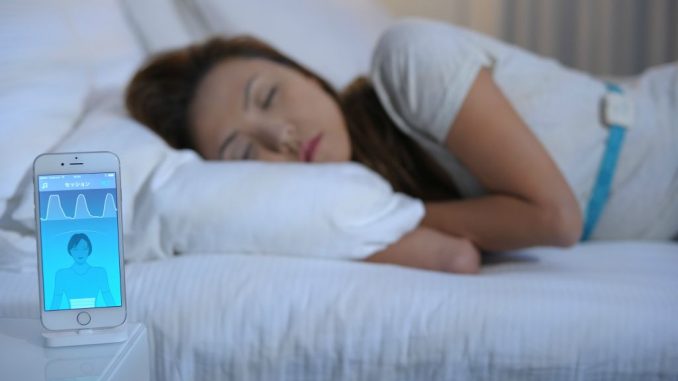 1. Here One Smart Buds
If you are the type of person who has trouble sleeping in a noisy room, Here One Smart Buds are worth a closer look. These wireless ear buds feature noise cancellation technology that can help cancel out any unwanted noise in the room. This, in turn, can make it easier to sleep. If you prefer, there is also a filter that you can use that will allow certain sounds such as white noise to get through.
2. S+ by ResMed
Monitoring your sleeping patterns can help you analyze your current habits so that you can make changes that will help you get better sleep. Unfortunately, most sleep sensors are uncomfortable or difficult to use. The one exception is S+ by ResMed. This unique sensor can track your sleep cycles without actually coming into contact with your body or with your mattress. What makes it unique is that it uses motion detection to track your movements throughout the night. It also monitors the amount of light in the room and the temperature so that you can see if those factors are affecting your sleep.
3. Athlete Recovery Sleepwear
When you think of Tom Brady, the first thing that comes to mind is probably his professional football career. As it turns out, however, he is also the reason why UnderArmour developed their innovative Athlete Recovery Sleepwear. These pajamas are made from special fabric that has bioceramics printed on the inside. This helps promote better sleep through the use of far infrared technology. These high-tech pajamas can make it easier to get a restful night's sleep so that you can wake up feeling great the following day. They can also help your muscles recuperate while you sleep if you had a hard work out the day before.
4. 2Breathe
What if you could use technology to help you fall asleep faster? Well, thanks to a product known as 2Breathe, you can. This app uses therapeutic breathing exercises that are designed to help your breathing slow down naturally. Deeper, slower breathing naturally relaxes your body and releases anxiety, making it easier to fall asleep. Best of all, you don't have to worry about turning it off. Instead, it automatically shuts down after it senses that you are asleep.
5. Advansa iX21
By tracking your movements during the night through the use of its built-in sensors, the Anvansa iX21 pillow can come up with ways to help you sleep better. It has a mobile app that is connected to the pillow that can provide you with advice on getting better sleep based on your current sleep patterns.
6. Nora
There are a lot of solutions on the market that are designed to stop snoring. One of the latest innovations is a product known as Nora. This product consists of a small pump that is positioned underneath your pillow. When it senses that you are snoring, the pump is activated, moving your head as a result. When your head moves, your throat muscles are stimulated, which can put an end to the snoring. This product works best for people who are relatively motionless when they sleep.