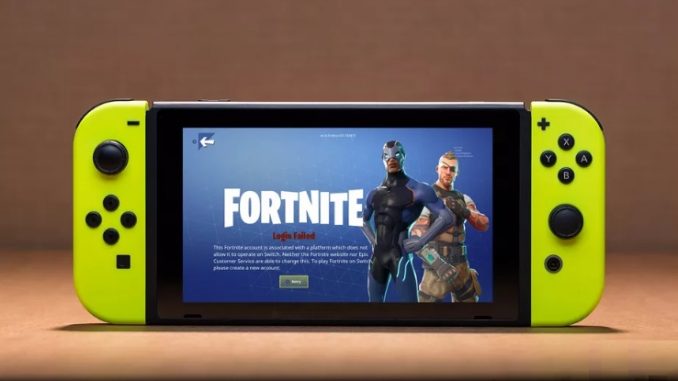 Sony is blocking Fortnite cross-play and progression between the PlayStation 4 and Nintendo Switch, and Fortnite fans are furious. Hundreds of Fortnite fans are reacting angrily on the Resetera forums and Reddit after learning that you can't use a Fortnite account that's been used on the PS4 with the Nintendo Switch. This means that any progress, skins, and purchases can't be shared between PS4 and Nintendo Switch, so the dream of playing Fortnite at home on a PS4 and then using the same account on the go on Nintendo Switch is truly dead.
"This Fortnite account is associated with a platform which does not allow it to operate on Switch," explains a message on the Switch version of the game if you attempt to log in with an Epic Games account that has been used on the PS4. While there are options to decouple a PlayStation account from an Epic Games account, Fortnite players are warning that this doesn't fix the problems. It appears the only option for PS4 players wanting to use the Nintendo Switch Fortnite version is to create a new Epic Games account.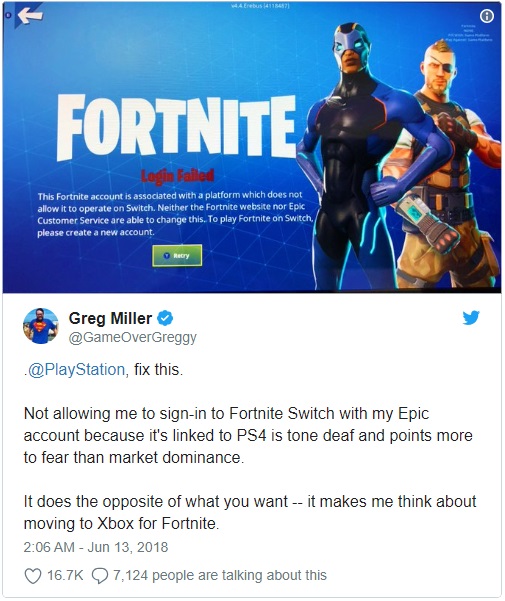 "Fuck you, Sony," says one commenter on Resetera. "Because I played on a PS4 (on an account that I mainly play on PC, and is cross-platform compatible with the Switch), I can't play on Switch. I would gladly un-link my PS4 from my account if it meant I could play on Switch." Another over on Reddit describes Sony holding Fortnite skins hostage in 2018 as "an actual joke." Reddit PlayStation fans are appealing to Sony to change its mind, and the replies to Sony on Twitter show the frustration is boiling over. Greg Miller at Kinda Funny is equally annoyed by Sony's move, while Microsoft's Xbox UK account is making light of the situation.
More over at The Verge