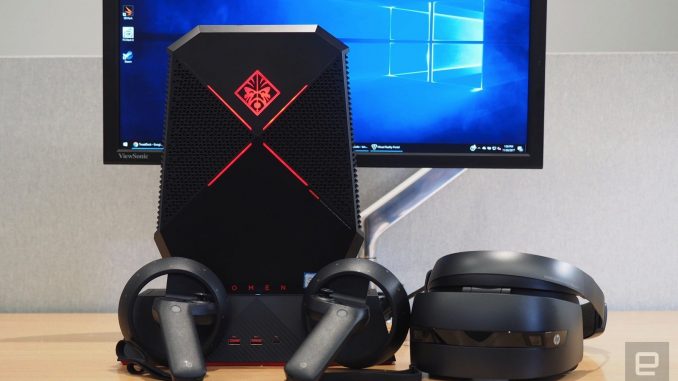 HP are pumping a lot of money into their "gaming" range of PCs, laptops and now it seems VR backpack. Not sure if the name "Omen" is good for marketing thou …
… the Omen X Compact Desktop is sleek and relatively portable. On its own, it weighs 5.5lbs — lighter than popular gaming notebooks from Alienware and Razer. The desktop also shares the same aesthetic as HP's Omen 15 and Omen X laptops. It's got a sharp, angular design with a stylish black case and red accents. It makes a statement on its own, but it really shines when you place it in the bundled dock, which turns it into a monument to PC gaming.
The dock gives you an easy way to connect the desktop to your workspace, and quickly remove it, without having to deal with plugging in cables. The front features two USB 3.0 ports, as well as USB-C. While the back has another 3 USB connections, an ethernet jack, as well as DisplayPort and HDMI. There's also a power connection for recharging the batteries from HP's VR backpack.
Pros
Powerful hardware can handle 4K gaming
Portable enough to move around easily
Built-in battery is convenient
Comes with a dock
Cons
Expensive compared to full-sized desktops
No SD card reader
Summary
HP's Omen X Compact Desktop is expensive, but it's an ingenious gaming device. It can handle all of your PC gaming needs, but you can also throw it in a backpack for lan parties, or place it right alongside your game consoles.
Source: Engadget