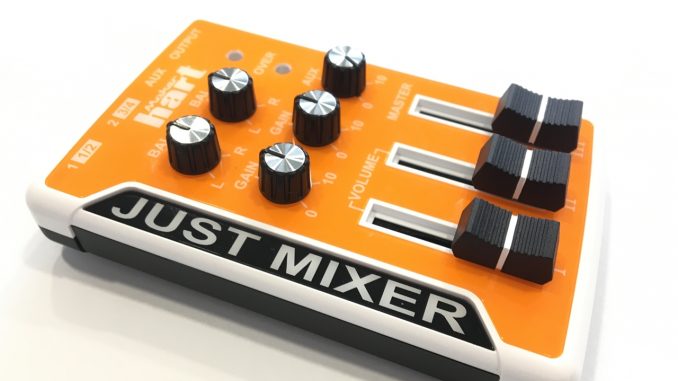 Today, we'll be taking a quick look at at the Maker Hart Just Mixer – A battery/USB powered 3 channel mixer that's compact, portable and only costs just USD $39 from Amazon.
Now, you're probably asking why the @&$# would you want to review one of these? Well, believe it or not, we've been having some issues with adding two or more microphones to our video recording setup. We've tried 3.5mm splitters and they don't work, so the only way is to add an expensive pre-amp rig to your DSLR or mirrorless camera… such as a Saramonic Smartrig+
(USD $100). Don't get me wrong the Saramonic Smartrig+ is a fantastic piece of kit, and it's been recommended by a lot of photography professionals. It gives you 2 stereo channels with 3.5mm, 1/4″, or XLR inputs, as well as +48v phantom power. By all means, this is the one you should really be getting.
However, I wanted to see if I can do the same thing as the Saramonic Smartrig+
, but on the cheap for $39. The Maker Hart Just Mixer not only offers the same as the Saramonic Smartrig+, but it's much more compact and portable. The only thing it doesn't have are the XLR inputs.
The only thing now, is how the $&@# do I mount this on my Smallrig cage. Hahaha… see below.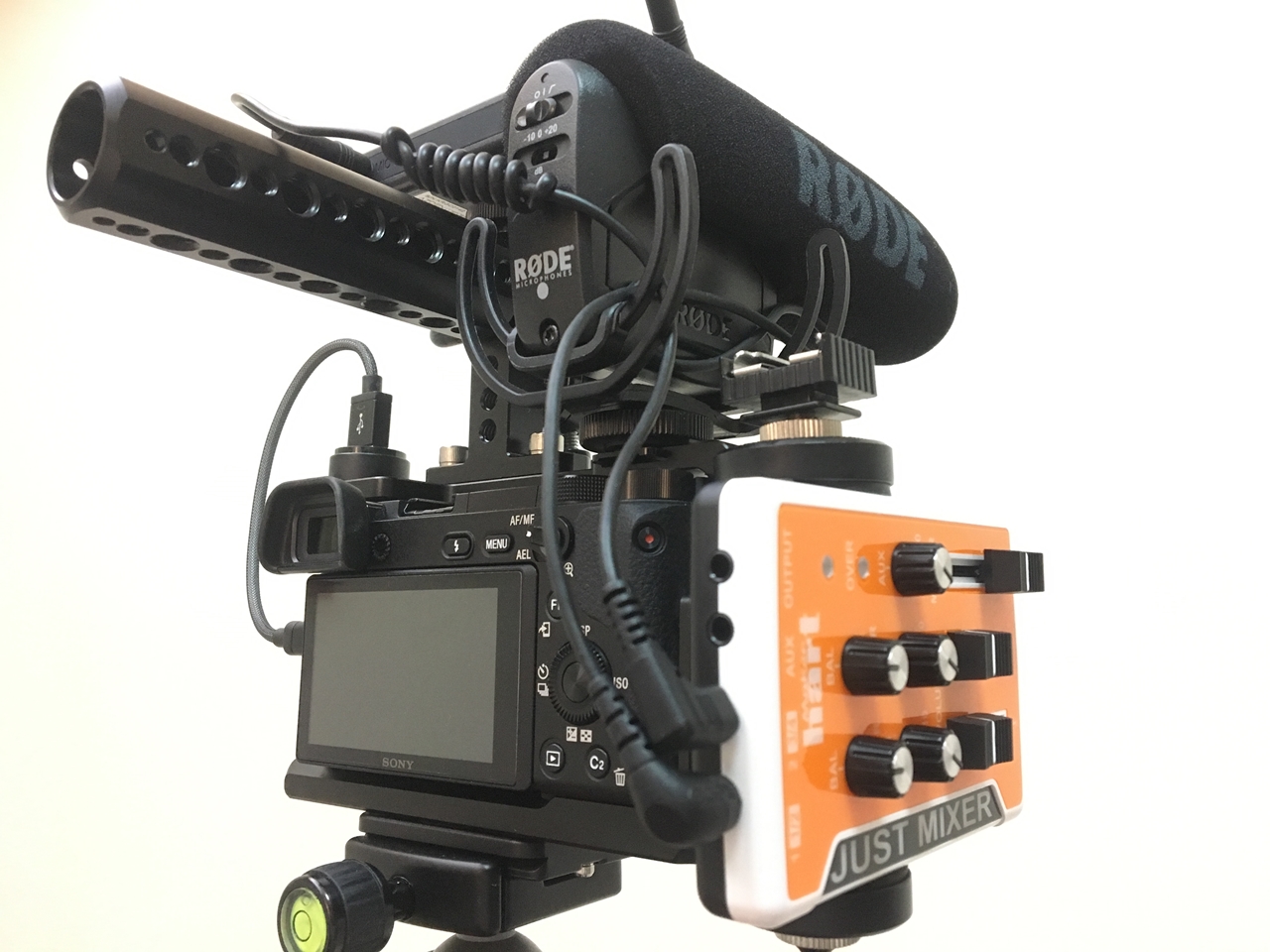 Overview
Stereo 3 in/1 out Configuration
3 stereo channel on JUST MIXER can connect up to 5 mono input.
Microphone Setup
By Gain knob adjustment, input signal level is adjusted to input signal level
of microphone.(Recommend to use high-sensitive microphone)
Overload Indicators
The L/R OVERLOAD LEDs allow you to set the best signal
level for optimum audio performance.
PHONES Jack
Stereo headphones can be connected to this jack for
convenient mix monitoring.
POWER
Used with 2 x AAA or USB Power Bank
Specifications
3 x 3.5mm STEREO INPUT: 2 input jacks that can be split into 4 x 1/4″ mono (mono to stereo adapter required), 1 AUX In
1 x 3.5mm STEREO OUTPUT: Output to headphones or speakers
OVERLOAD INDICATOR: Lights up when mixed signal level is too high
BALANCE: Adjust L/R balance for each channel
GAIN: Adjust and amplify signal strength for each channel
MASTER and CHANNEL VOLUME SLIDERS: Adjust volume of overall and individual channels
USB POWER JACK: Micro USB socket (cable not included)
POWER SWITCH / INDICATOR Gain: Max. 20dB
Power source: 2 x 1.5V (AAA) batteries or 5V micro USB power source
Weight & Dimensions: 3.2oz; 2.7 x 4.1 x 0.9″
Package Contents: Just Mixer, 2 x AAA batteries, pouch, manual
Both units are battery powered, which makes them extremely portable, which really I like. Incidentally, the Maker Hart Just Mixer uses 2 x AAA batteries which are more widely available. But what makes this unit stand out, is the fact that it can also be powered by USB! And that for me is the winner here.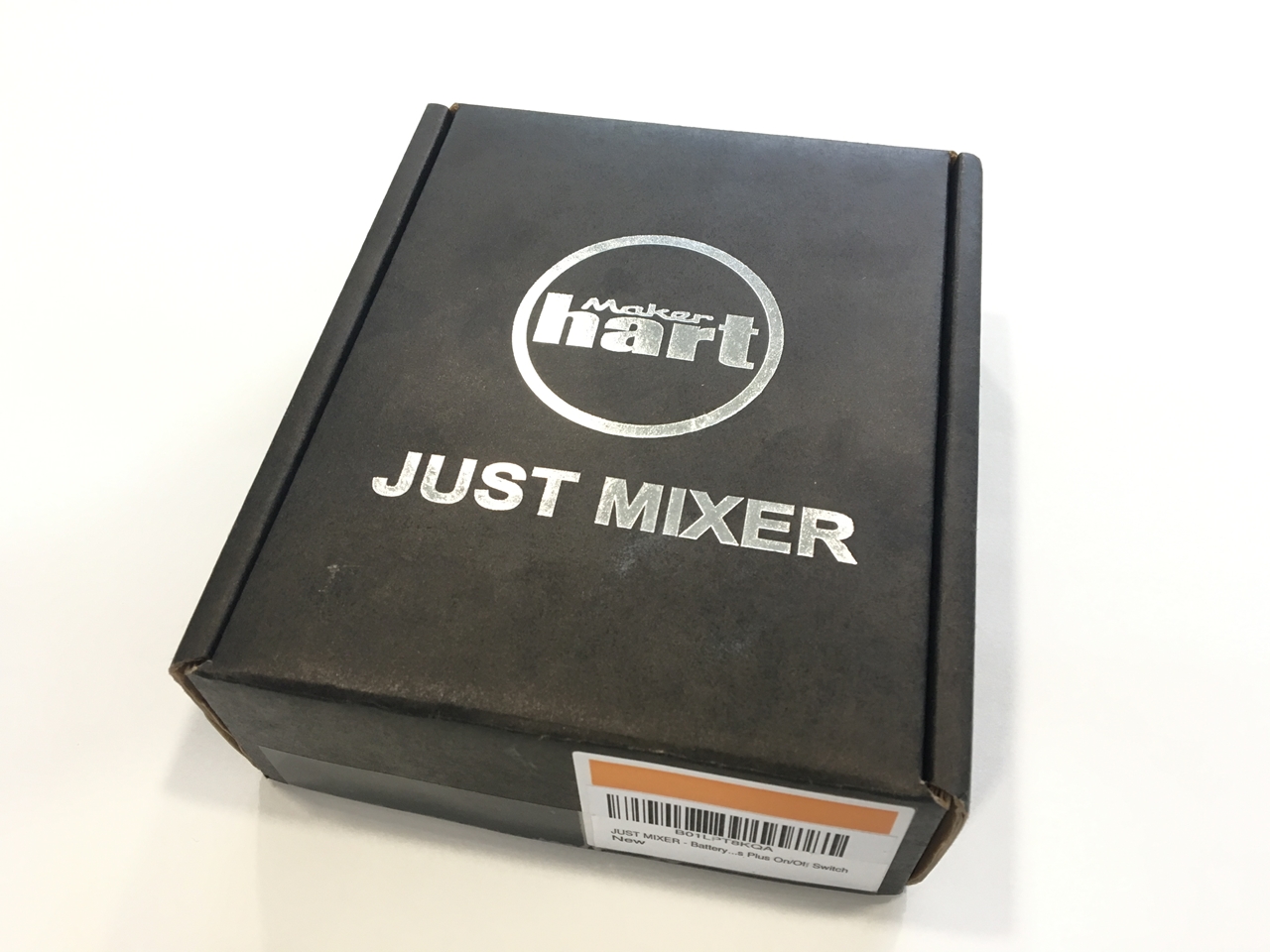 On the unit itself, you'll find that there are 3 x gain dials for each of the channels (Ch1/Ch2/Aux) upto max. 20dB, as well as 2 dials for left/right balance for channel 1 and 2. Finally, there 3 volume sliders which controls channel 1, 2 and Master.
I've plugged in a variety of microphones including the Rode Videomic Pro, Sony shotgun mic, the Sennheiser AVX-ME2, as well as a standard lavalier microphone. All of them worked flawlessly with the Maker Hart Just Mixer adding upto 3 microphones (or 3 channels). I was also able to adjust the volume via the gain dials and volume slider on the mixer, which is great.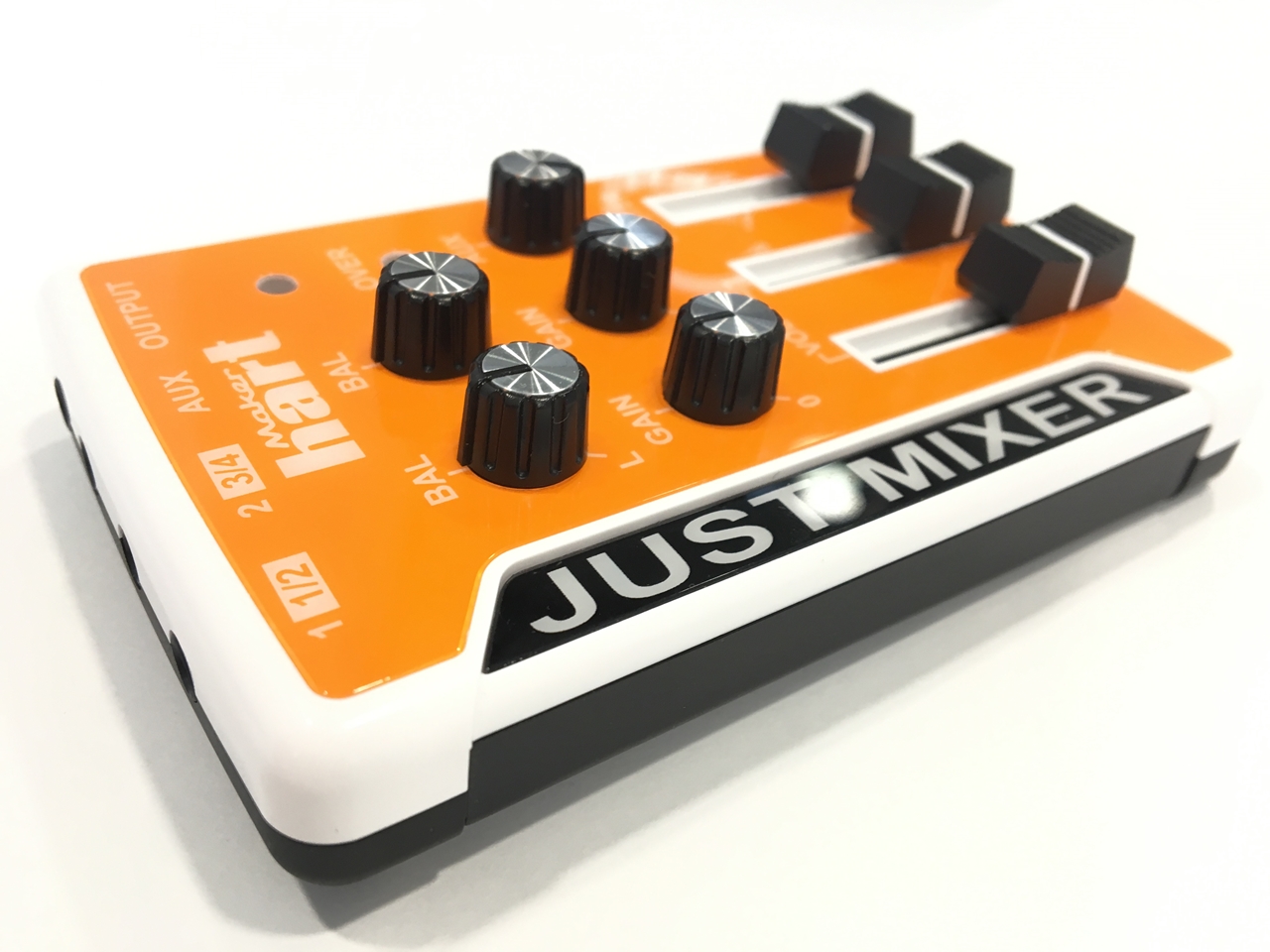 What I really love about this little mixer is its compact size. It measures just 68.5mm x 104mm x 22.8mm in dimensions, and it's extremely light-weight, weighing in at only 90.7g. And if you're not using it for your camera rig, the mixer will not look out of place as a standalone portable mixer for any computer, laptop or smartphone/tablet.
The Maker Hart Just Mixer can be powered by 2 x AAA batteries, which lasts about xx hours of continuous use, which is fine by me.
The only thing about the whole package, which I found a little disappointing was the lack of cables. There's no micro-USB charging cable or 3.5mm audio extension cable – something which you'll definitely need.
Construction and build quality of the Maker Hart Just Mixer could be a little bit better, but I can't really complain for a product that's only $39. One thing you might want to be aware of … is the possible noise from external interference. That said, if you use high-quality microphones, you should be fine.
Final Words:
If you're in need to add/mix more than 2 microphones (or more – upto 3 channels) for your camera rig, PC or laptop, then why not take a look at the Maker Hart Just Mixer. It's one of the cheapest options you can go for.. and more importantly, it does the job!
Buy the Maker Hart Just Mixer
from Amazon for USD $39.