Performance
Performance was tested on the Intel Kaby Lake platform which features an i7 7700K processor, set at 4.2GHz 1.20V. Not because this processor can't run at higher frequencies, but so the results were comparable with both the Kaby Lake and Skylake processors. This voltage has allowed us to overclock our current sample to 4.7GHz. Voltage is the almost only factor that has significant effect on the processors temperature.
There were three test stages. Idle which is quite obvious, shows the temperature on the Windows desktop without any applications running. There may be some background services which can not be disabled.
On the CPU was used Gelid Extreme thermal grease which was added to the Eisbaer cooling. It's probably the best thermal interface which we can find with water cooling kits.
The mixed tests are based on the PCMark 8 test set. This comparative test uses popular test applications, so it is close to the typical workload at home and in the office.
Maximum temperature was tested in AIDA64 stability test – CPU/FPU tests only.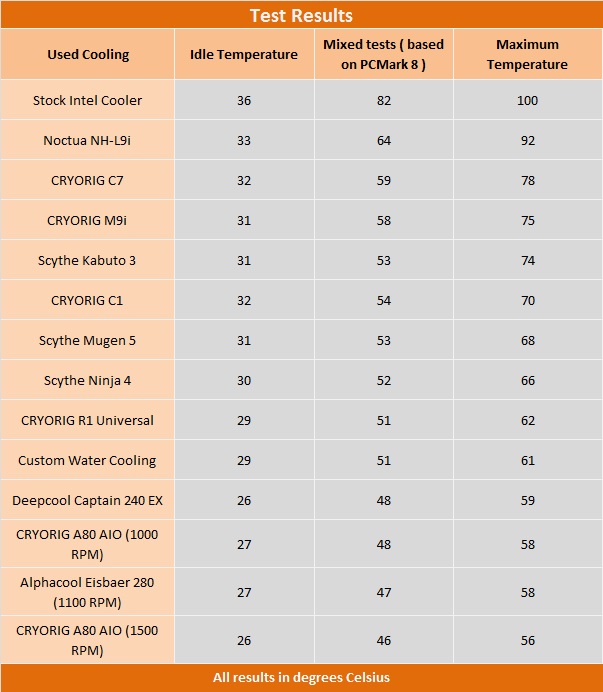 The Eisbaer is the best performing cooling in our comparison. It can be said that Cryorig A80 is better but its fans at maximum speed reach 1500 RPM what makes a lot of noise. At about 1000 RPM, Aphacool Eisbaer is a bit better and if the fans were spinning faster then could beat the Cryorig A80.
On the other hand we don't want fans to spin faster. Optimal speed at which they're quiet is about 700-800 RPM. At 1000 RPM we can clearly hear them. So it's up to you if you want top performance or silence at still high performance.
Even if we lower maximum speed to ~800 RPM then the Eisbaer is performing great and the CPU temperature isn't much higher.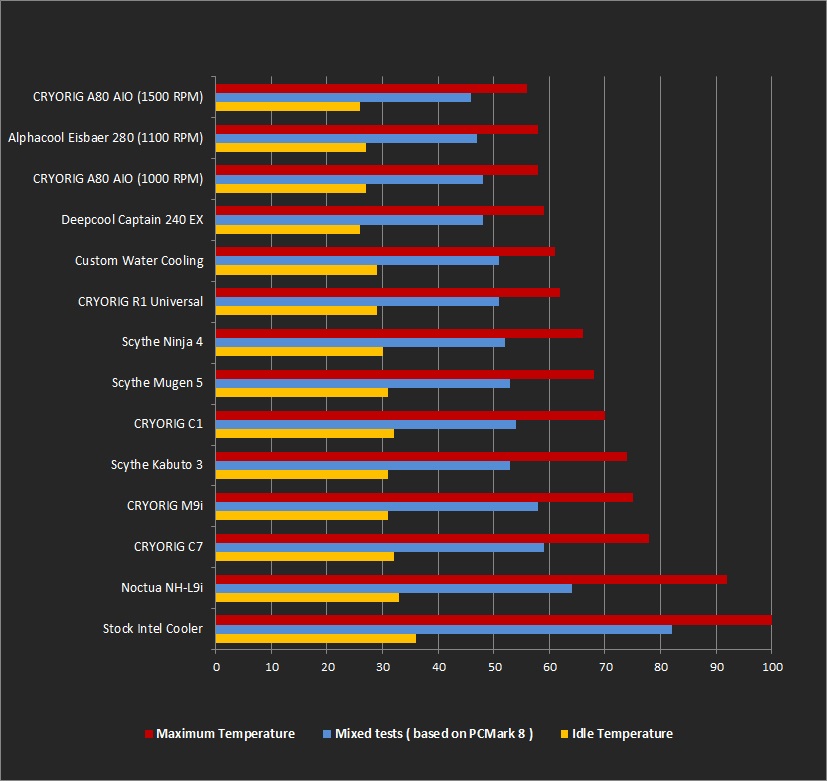 If you are thinking about overlocking mentioned i7 7700K processor then our sample is able to work without issues at 5GHz and 1.3V. At these settings Alphacool Eisbaer can keep it fully stable below 85°C ( full load in applications like Prime95 with AVX instructions ). If you are thinking of delidding processor and use at least Gelid Extreme thermal grease then this result will be about 10-15°C better.
There are many variables which are affecting final processor temperature so it may vary from your home PC results.
The Alphacool Eisbaer provides top performance and has many features which make it really interesting product for computer enthusiasts and gamers.