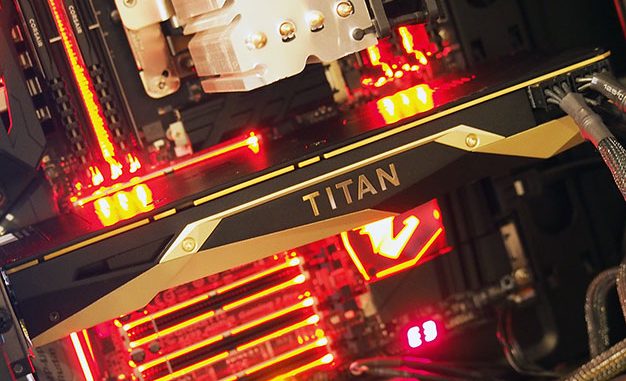 If you're wondering how powerful the new Nvidia Titan V graphics card really is … well here's quick comparison of the different GPU's mining capabilities.
Early yesterday morning, we brought you news of a YouTuber that managed to get his hands on one of the first NVIDIA TITAN V graphics cards that shipped to well-heeled customers. BitsBeTrippin' slapped the chest thumpin' Volta-based GPU into an AMD Ryzen Threadripper 1950X system, and cranked out 70 MH/s at stock speeds and 77 MH/s while overclocked, while drawing 213W and 237W respectively.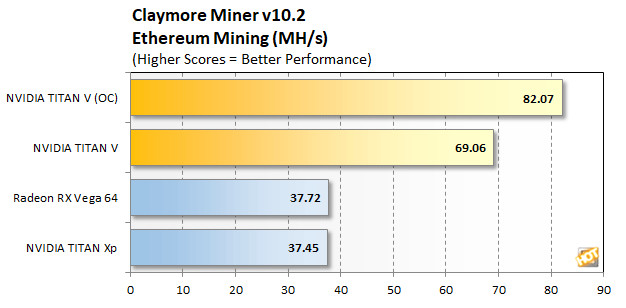 We here at HotHardware just so happen to have a TITAN V in house as well, and we are presently running it through an exhaustive battery of benchmarks. However, we were able to extract a few data points for all of you Ethereum miners out there.
Using Claymore Miner (v10.2), we were able to hit 69.06 MH/s at default speeds right out of the box, with no tweaking whatsoever, far outpacing what's possible with the current standard-bearer from AMD and the previous generation Pascal-based TITAN Xp. The Radeon RX Vega 64 was well behind with a 37.72 MH/s rate, while the TITAN Xp was virtually tied at 37.45.
Source: HotHardware via TPU