Box and Packaging
The box is huge and looks mighty impressive. It definitely aimed at the enthusiasts and screams "extreme" all over. Inside the box, you get a nice badge with the ROG emblem. an A4 sheet of ROG stickers and even a coaster. There's usual quick installation guide, instruction manual and drivers on DVD disc. You'll also find some handy RGB header cables and 3 thermal senor cables. Interesting.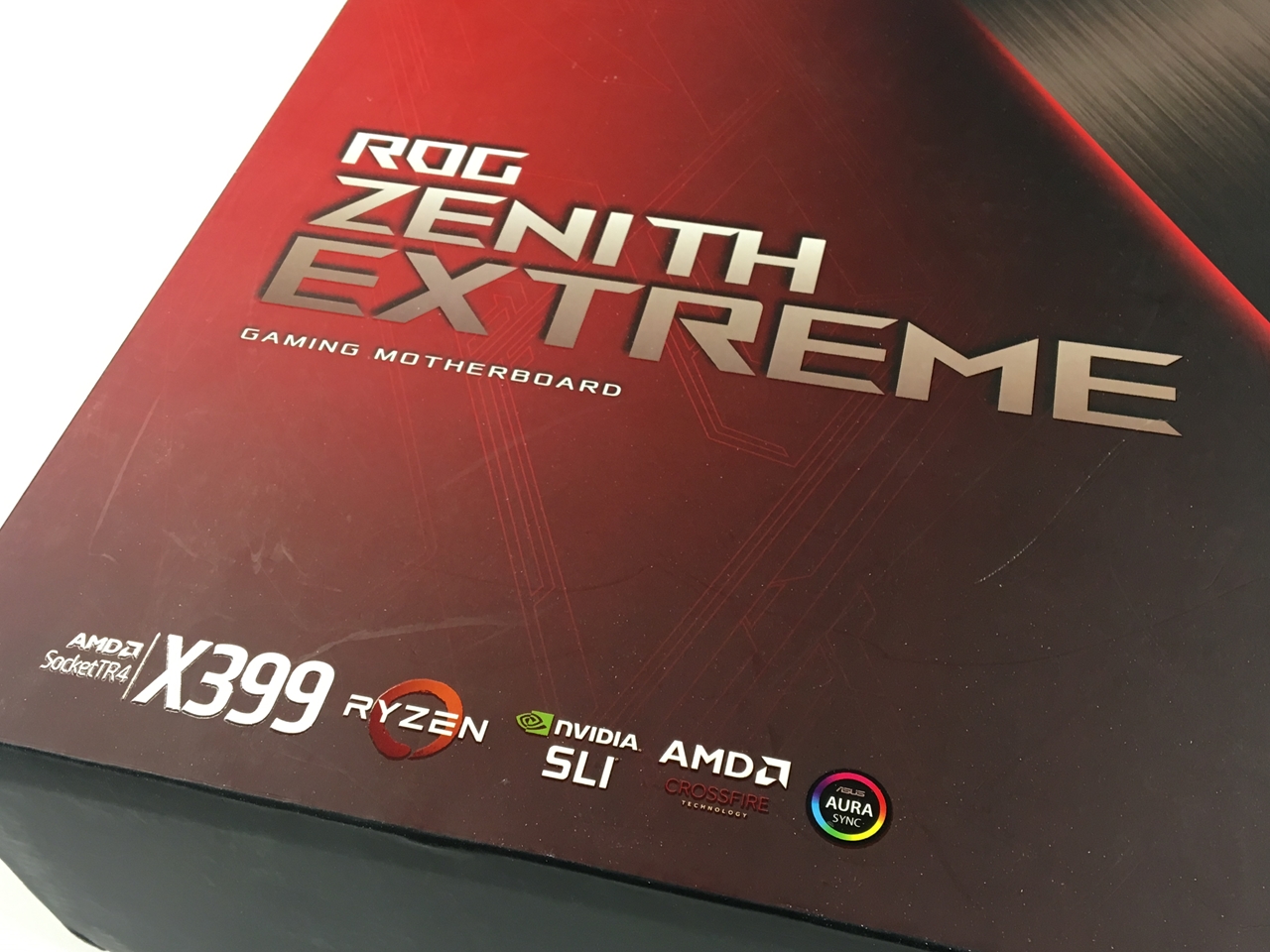 Moving on, there's a DIMM.2 expansion card for M.2 SSDs, Areion 10G card, fan controller card, and 2 ROG-themed antennas for the wifi. You'll also find 2 x SATA cables, some M.2 screws, as well as 4-way SLI, 3-way SLI and Dual-SLI bridge connectors.
Asus Zenith Extreme Motherboard
The motherboard comes in an EATX form factor and has a black/grey finish to it. Notice the TR4 socket. It's massive and stands out like a huge sore thumb.
All four PCIE x16 slots are reinforced with slot protectors which I really like. A total of 8 x DDR4 DIMM slots … 4 on each side of the processor socket to give you support for quad channel memory.
Note: Apart form the usual 24-pin ATX power connector, the board also has 2 x 8-pin power connectors labels ATX 12V1 and ATX 12V2, which is required for stable operation. If your current PSU does not have this, I do recommend getting a "Threadripper certified" power supply.
The large ROG-theme heatsink for the X399 chipset coems with Aura RGB and looks great, especially when the system is powered up.
A Closer Look
This mother board is made for overclocking. It features onboard power and reset buttons, as well as buttons for Retry, Safe Boot, LN2 mode and Slow Mode Switch. On closer examination, you'll find multicolored Q-LEDs, LED illuminated audio jacks, and even a ROG backplate with Aura lighting. Interestingly, on the hood for the I/O panel, there's a built-in fan for cooling and a LiveDash OLED feature which displays system status and various diagnostic information.
For storage, you get 6 x SATA ports, 1 x U.2 and of course the DIMM.2 expansion card allowing up to 2 x M.2 SSDs to be installed.
The I/O panel is packed with 8 x USB 3.1 (Gen 1) ports, clear CMOS button, BIOS flashback, 2 x MU-MIMO wifi antenna and 1 x 802.11AD wifi mounts, Intel Gigabit LAN, 2 x USB 3.1 (Gen 2 – Type A and C), and finally an array of LED illuminated audio connectors.