Performance
In our performance stage of the review, we will test the graphics cards with a couple of popular benchmarks and games. Except with 3DMark Vantage, all of the other tests are based on DirectX 11 which is already standard for any new games.
The test platform is based on a i7 4930k CPU overclocked to 4GHz and ASUS Rampage IV Extreme motherboard with the latest BIOS/UEFI.
For all tests we used the default or 1080p screen resolution as it is the most popular among gamers, especially with a lower budget.
Graphics Benchmarks
We will start from the most popular graphics benchmark made by Futuremark, which is 3DMark.

3DMark Vantage has been around for some time, but it is still a good test for graphics performance.
Both cards were running at 40 FPS or higher in every test which would be playable if we had a game based on these tests. The final results are also not bad considering these cards are not from the highest series.

3DMark 11 has some more complicated tests but the results here are not bad at all. Of course higher graphics series can score much higher but I do not think that these results are low. The HIS R7 260X is performing noticable better in this test. The additional stream processing units are definitely helping.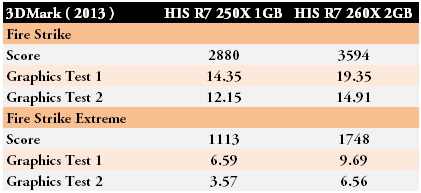 3DMark was made in 2013 and is the latest benchmark suite from Futuremark, thus is even more demanding than the previous tests. I have picked the Fire Strike and Fire Strike Extreme tests as they show performance in new games at high details. We can see that the average FPS is below 20 which is already low but both cards passed this benchmark without issues.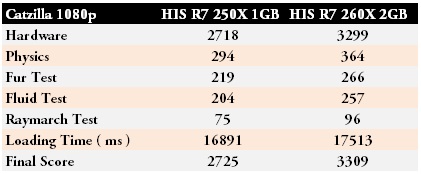 Catzilla is one of the latest benchmarks on the market. We can not see the FPS here but the numbers are pretty respectable for cheaper graphics cards. The HIS Radeon R7 250x and 260x are supporting all of the features of this test and there were no issues passing the test, but I will not hide that the FPS were low sometimes. The achieved rank for both of the cards was a "Cat" which is enough to play most games at medium details.
Games
We will begin our gaming tests with GRID Autosport. This is the latest racing game from Codemasters and was promoted by Intel. Grid Autosport can be found in the promo bundle with the new i5 and i7 Devil Canyon CPUs. It is one of the reasons why it is so popular.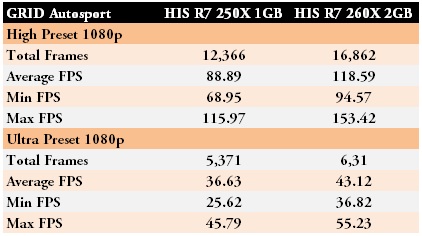 GRID Autosport looks pretty good and is not as demanding as other games and tests in this review. Even at highest details we are able to play this game on both graphics cards. However the R7 260X is showing up to 20% higher performance which is already a big difference.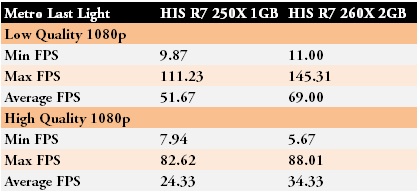 Metro is one of the most demanding games on the market, especially with tessellation enabled. Here we have checked how it is performing in low and high quality presets.
Metro Last Light at low details should be playable on both of the presented graphics cards. We can see some FPS drops but for most of the time the generated frames will be above 50 per second. In a slightly different situation we can see at higher details where the R7 250X will be already too slow to play without any issues with an average FPS below 25. The R7 260X looks better in this case with an average of 34.33 FPS. It is not perfect but it is playable.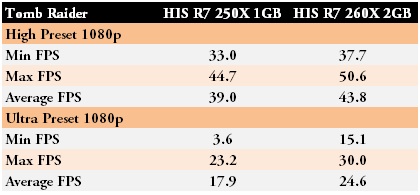 Tomb Raider is also quite a demanding game but on the high details both graphics cards should be able to run at above 30 FPS what is usually smooth enough to enjoy the game.
We will not be able to play Tomb Raider at nearly maximum details. Even though the R7 260X is again much faster than 250X, it is still too slow for the ultra preset.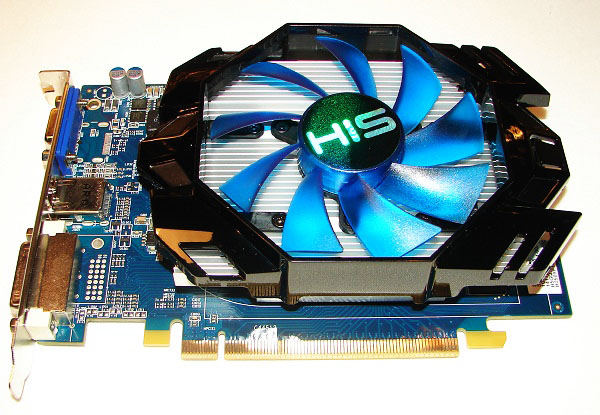 In general the performance of the HIS 250X and 260X is pretty good considering these cards are dedicated for casual gamers who do not want to spend too much on a graphics card but still wish to enjoy latest features.