Performance
Performance has been tested using custom water cooling loop which contains two 360mm radiators and 120l/h pump. Connected was only CPU water block. Graphics card was using stock air cooler.
Test platform base on the Intel i7 7700K processor set to 4.2GHz 1.2V for the comparison purposes. At these settings you can compare it to typical 6700K or other Intel processor at about 100W TDP.
The mixed tests are based on the PCMark 8 test set. This comparative test uses popular applications, so it is close to the typical workload at home and in the office.
Maximum temperature was tested in AIDA64 stability test – CPU/FPU tests only.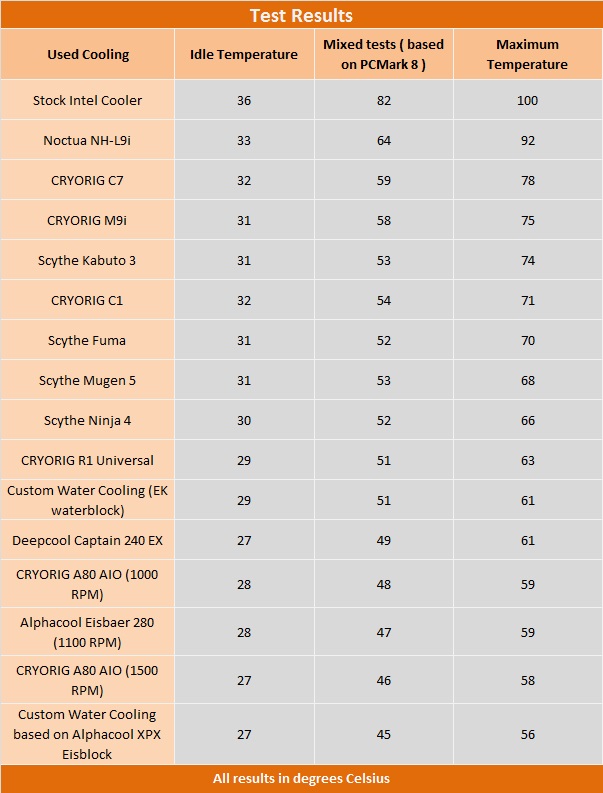 In our tests, the Eisblock is showing the best performance. It's better than previously used EK Supermacy by 5°C under full load what is a huge and unexpected difference. I've already noticed underperforming on the custom water loop side in previous reviews so now we know what was causing that. Or maybe Alphacool XPX is simply so much better ? It doesn't change the fact that the Eisblock is performing great and right now is offering the best cooling for our 7700K processor.
Below you can see a graph with the same results as in the table above.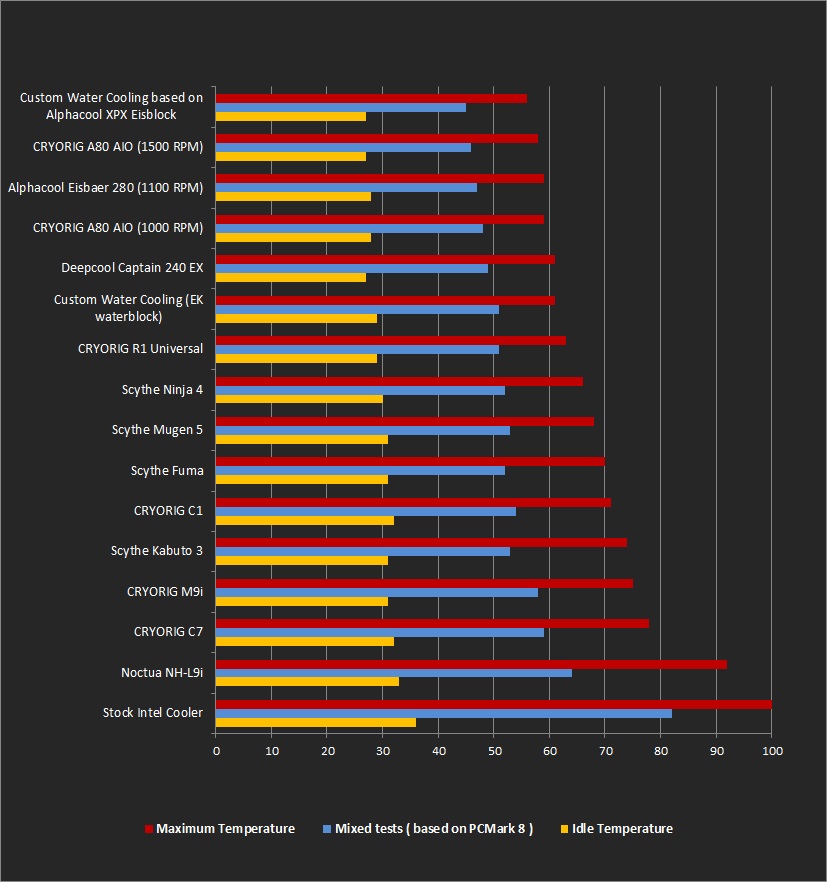 The Alphacool Eisblock XPX is proving that there is still something to improve in water blocks. On the other hand AIO water cooling kits like Alphacool Eisbaer are not much worse than the custom kits so sometimes AIO can be better option and for sure easier to install for less advanced users.
Our 7700K processor can be easily overclocked to 5GHz and beyond while maximum temperature is about 80°C in CPU/FPU Prime95 tests and in low 70 in AIDA64 CPU/FPU. Most coolers from our comparison couldn't handle these settings.
Enthusiasts and overclockers will for sure like new Alphacool CPU block which combines high performance and interesting design.